On loan to The Met The Met accepts temporary loans of art both for short-term exhibitions and for long-term display in its galleries.
Section 13 of the Qur'an of Nur al-Din
Calligraphy by 'Ali bin Ja'far bin Asad

Not on view
The military leader Nur al-Din had this volume of a Qur'an manuscript, amongst others, made for the madrasa that he founded and named for himself in Damascus. The richly decorated text originally comprised sixty volumes, a testament to its intended use in daily readings and to his generosity. But Jerusalem was Nur al-Din's ultimate, unrealized goal, and it fell to his successor, Saladin, to recapture the city and fill its sanctuaries with similarly rich Qur'an manuscripts. Contemporary chroniclers relate that Saladin had "copies, portions, and venerated sections of the Qur'an raised up on lecterns and placed on shelves in view of visitors."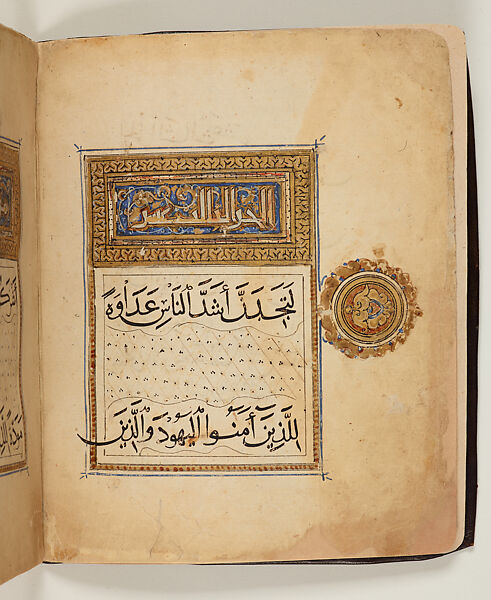 This artwork is meant to be viewed from right to left. Scroll left to view more.