On loan to The Met The Met accepts temporary loans of art both for short-term exhibitions and for long-term display in its galleries.
Suit of Bells, from The Playing Cards of Hans Schäufelein
Hans Schäufelein German
Publisher Wolfgang Resch German

Not on view
The Playing Cards of Hans Schäufelein

Hans Schäufelein worked in Albrecht Dürer's studio from 1503 or 1504 until 1507. He was a painter and a prolific draftsman, and he produced more than twelve hundred woodcuts, which are famed for their wit and epigrammatic content. In his deck of playing cards, the kings, following convention, sit holding their suit signs or gesturing toward them. The knaves, on the other hand, are more socially stratified: the upper knaves are elegantly turned out, while the attire of the under knaves ranges from modest to rags. Schäufelein's scenes in the lower zones of the pip cards present a more forthright view of the social condition. Some merely depict pleasantries among the denizens of the upper strata. Most, however, underscore the uncouth, even salacious behavior of farmers and peasants or, more generally, the foibles and failings of mankind expressed through imagery loaded with sardonic, proverbial, or moralizing messages. In the 6 of Bells, an old woman gazes at a glass vessel, emulating the charlatan practice of analyzing urine. She is conducting a pregnancy test; the urine bottle she contemplates, however, holds a mound of feces, the only thing this woman is likely to give birth to. Other images merely underscore the foolishness of human behavior. In the 10 of Bells, a man serenades a hare with a fife and drum, and, in the 8 of Bells, a woman attempts to milk a bull to its obvious disconcertment. A master of economy, Schäufelein created compositions with taut line and narrative conciseness that convey the essence of each image with arresting directness. Schäufelein seems to have assembled an almost arbitrary selection of images poking fun at humanity's failings, arranged in no particular order, as though the random dealing of cards were a metaphor of life's vicissitudes.

Suits: Acorns, Leafs, Hearts, and Bells
13 cards in each suit: King, Upper Knave, Under Knave, 10 through 1
52 cards, of which 48 survive
Germanisches Nationalmuseum, Nuremberg (GNM Sp 7074-7120 Kapsel 516)

King of Bells
The king sits in a carriage.

Upper Knave of Bells
The Upper Knave is portrayed as a mercenary.

[The Under Knave of Bells is missing.]

10 of Bells
A man entertains a hare with fife and drum.

9 of Bells
A man blows a pipe up the rear of a dog.

8 of Bells
A woman attempts to milk a bull.

7 of Bells
A woman plays with a bear.

6 of Bells
A female charlatan examines feces in a urine glass.

5 of Bells
A donkey bears a heavy sack with a glass vessel on its head and wears a bell around its neck.

4 of Bells
A fox with a basket of cockerels strapped to his back walks along with two walking sticks.

3 of Bells
A man lying on the ground swats at flies while a bird raises a fuss.

2 of Bells
Two couples enjoy a copious meal outdoors.

1 of Bells
A man with his hand up a woman's skirt is fended off with a distaff as another attacks with a stick.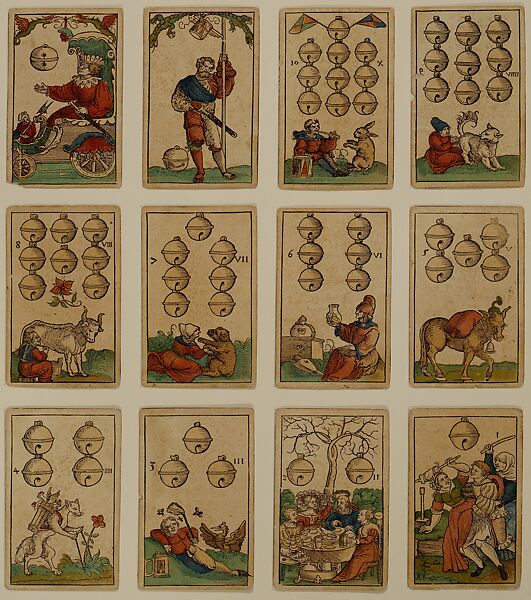 This artwork is meant to be viewed from right to left. Scroll left to view more.