Returned to lender The Met accepts temporary loans of art both for short-term exhibitions and for long-term display in its galleries.
Autumn Maple
Sakai Ōho Japanese

Edo period (1615–1868)
Not on view
As is the case with many painting traditions, the Rinpa repertory of themes was maintained through the practice of copying the work of one's predecessors. In Autumn Maple, Ōho reproduces a composition originated by Hon'ami Kōho (1601–1682), the grandson of the celebrated calligrapher Hon'ami Kōetsu. The image of an isolated maple tree with a long vertical trunk, thin branches, and luminous red leaves was developed by Kōho as the leftmost painting in a triptych, and was subsequently copied by Sakai Hōitsu, Ōho's teacher. Ōho's version has fewer leaves, which heightens the contrast between their sharply delineated red and orange forms and that of the velvety soft trunk—created through use of the mottled ink (tarashikomi) technique.

Sakai Ōho was one of Hōitsu's most talented pupils, but he died at a relatively young age and left behind a small corpus of signed works. Adopted by Hōitsu when he was ten years old, Ōho also was allowed to take one of Hōitsu's art names after his master's death and thus became known as Uke'an II.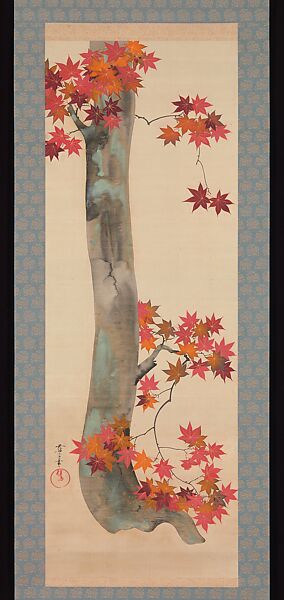 This artwork is meant to be viewed from right to left. Scroll left to view more.