Returned to lender The Met accepts temporary loans of art both for short-term exhibitions and for long-term display in its galleries.
Deer and Maples
Mori Tetsuzan Japanese

Not on view
Originally painted as sliding-door panels (fusuma-e) and later remounted as large folding screens, this work shows deer at ease beneath maple trees in autumn. The reverse side of the panels represents cranes in springtime.
Tetsuzan was adopted by his uncle Mori Sosen, but while he lived in Kyoto, he studied with Maruyama Ōkyo and is ranked among the master's ten best pupils. Later in life, he moved to Edo and introduced the Maruyama style to the Kantō region.
The deer are all rendered in a highly realistic style, reminiscent of Sosen's careful observation of animals in nature and his mokkotsu ("boneless," meaning without ink outlines) technique of painting fur and feathers. The opulent red maple leaves and the small pines are also highly naturalistic, as is the twisting bark of the tree trunks, but these are brilliantly contrasted with the simplified suggestions of the surrounding landscapes, sparingly indicated and obscured by a mist of gold. This blending of realism and simplification creates a milieu in which the animals and birds appear to exist in an almost dreamlike world.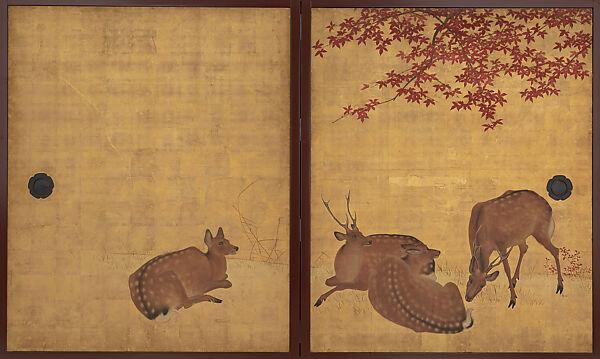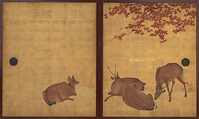 This artwork is meant to be viewed from right to left. Scroll left to view more.