Male Figure
Not on view
This standing Igbo male figure juxtaposes a lithe body with highly stylized facial features. The columnar body boasts curved arms and hands with open palms, and sturdy legs and feet that support the solid figure. Adorned with cicatrization marks along the chest and abdomen, fiber remnants, ornamental metal bracelets, carved ringlets and anklets, the figure is powerful and regal. The striking face is narrow with condensed features; the wide mouth and jaw protrude and the heavily cicatrized forehead and coiffure are highly prominent.

The imposing figure, from eastern Nigeria, was at the heart of Igbo belief systems, associated with tributary deities known as Alusi. Kept in shrines as a group sometimes as large as twelve, the figures were thought of as family members of the Alusi. A male figure of this scale would have been the most important of a specific shrine. They were paraded annually when they were resurfaced, dressed, and honored with a feast. A priest was responsible for their care as they interceded in cases of infertility and other social disorders. While the face and torso show a high level of detailed carving, the hands and feet are defined in a schematic manner as is customary in Alusi figures from the Onitsha region. Especially characteristic are the upturned hands, as a sign of openhandedness and generosity of the deities, as well as willingness to receive offerings. This example's many layers of pigment, fibers ornaments, and wrapper attest to its long and active life at the center of a northwestern Igbo community. Nigeria's Biafran civil war devastated Igbo communities that battled for over three years for secession and led to the loss of over a million lives. This work is among the many thousands of artifacts exported to Europe and the United States over the course of the conflict.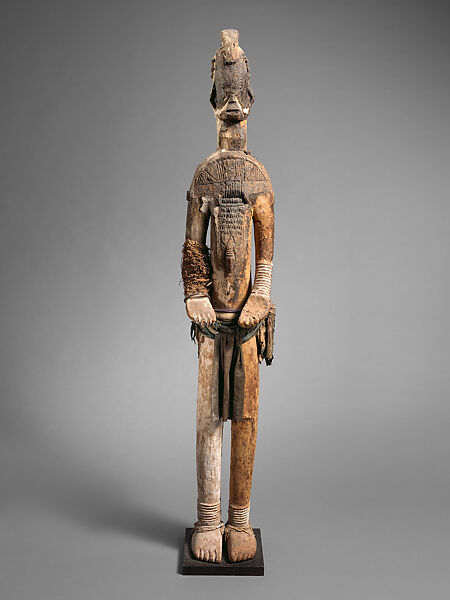 This artwork is meant to be viewed from right to left. Scroll left to view more.