On loan to The Met The Met accepts temporary loans of art both for short-term exhibitions and for long-term display in its galleries.
Noh Costume (Karaori) with Dharma Wheels and Clouds
Not on view
This Noh robe, or karaori, was inspired by sophisticated, layered patterns seen on early seventeenth-century examples. Here colorful dharma wheels referring to the act of teaching by Buddha Shakyamuni and auspicious clouds are set on a ground of interlinked circles (shippō) with stylized flowers in the center, a felicitous pattern. Both the raised patterns and the golden-brown ground motifs are woven with floating supplementary wefts on a dark green twill-weave ground in a technique also known as karaori (literally "Chinese weave"). The term originally referred to luxurious brocaded silks with supplementary weft patterning imported from China. Later, the same term came to refer to Noh robes for which the brocaded fabric was used. Though karaori were worn for women's and young noblemen's roles, this costume likely served as a man's inner garment, as Buddhist implements such as dharma wheels are typically considered masculine.

On view from June 7, 2022 – February 20, 2023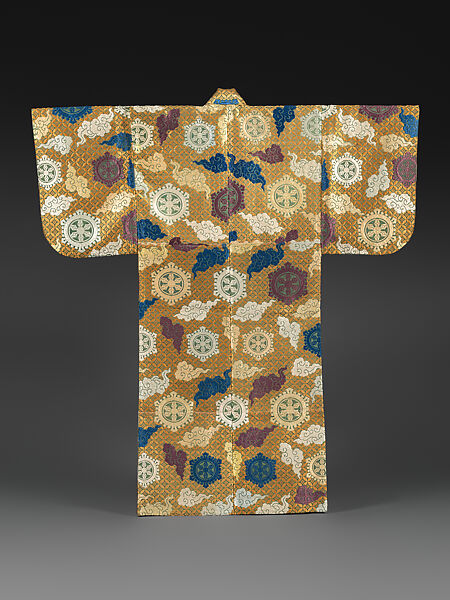 This artwork is meant to be viewed from right to left. Scroll left to view more.