Peonies/Seven-Character Quatrain
Calligraphy by Rai San'yō 頼山陽 Japanese
Painting by Matsumura Keibun 松村景文 Japanese

Not on view
A seven-character quatrain is fluently brushed in running-grass script. The elegantly curved strokes were boldly extended in semi-circles, adding dynamism to the characters executed in various ink textures and tones. Some characters and strokes were written with a drier brush, imparting a sense of speed and spontaneity. The inscribed poem in four lines of seven syllables each can be deciphered and translated as follows:

洛水春風常掩關,
不從姚魏酔雕欄。
秋燈半壁高齋夜,
却白霜縑看牡丹。

As spring arrives on the Luo River,
my gate remains shut,
And I do not become drunk and lean on balustrades
to admire peonies of the houses of Yao and Wei.
Rather, on this autumn night,
when a lamp lights up half of my study,
I prefer to gaze quietly upon
these peonies on the frost-white silk.

The poem praises the literati preference to painted over live peonies by referring to the old Chinese capital of Luoyang, which was known for spectacular arrays of peonies. The Luo River is a tributary of the Yellow River that flows through Luoyang. But the city name Luoyang (Rakuyō in Japanese) is also a way to poetically refer to Kyoto, the capital of Japan at the time, and thus this poem can be thought to be set there rather than in China in the distant past. Yao and Wei were famous houses of peony breeders in the Tang dynasty, and their surnames survived as the names of the yellow and purple peonies they cultivated.

This poem was brushed by the celebrated Confucian scholar Rai San'yō, who was active in Kyoto and established a reputation as a poet of Chinese verse, calligrapher par excellence, and Nanga painter. In 1811 he left the Hiroshima Domain, where his father had a prominent post, to become an itinerant scholar, and eventually settled in Kyoto, where he established an academy devoted to the study of Chinese classics. He also devoted himself to composing Chinese poetry and to writing the manuscript of Unofficial History of Japan (Nihon gaishi 日本外史), a revisionist history of Japan that that reasserted the importance of the prerogatives or the imperial family. Throughout his career, San'yō built an extensive network of noted intellectuals, poets and painters of the day, and many collaborative inscribed paintings survive.

San'yō's Chinese verse, a quatrain in seven-syllable lines, praises Kyoto artist Matsumura Keibun's lavish painting of a spray of peonies, painted on silk. The peonies were carefully brushed with subtle changes of color on each petal and leaf, conveying persuasive three-dimensionality. The stems supporting the splendid peonies are painted in light ink upon a layer of light brown.

Keibun was the half-brother and pupil of Goshun, who founded the Shijō school. Known for his exquisite flower-and-bird paintings, he perpetuated the success of the Shijō school after his brother's death.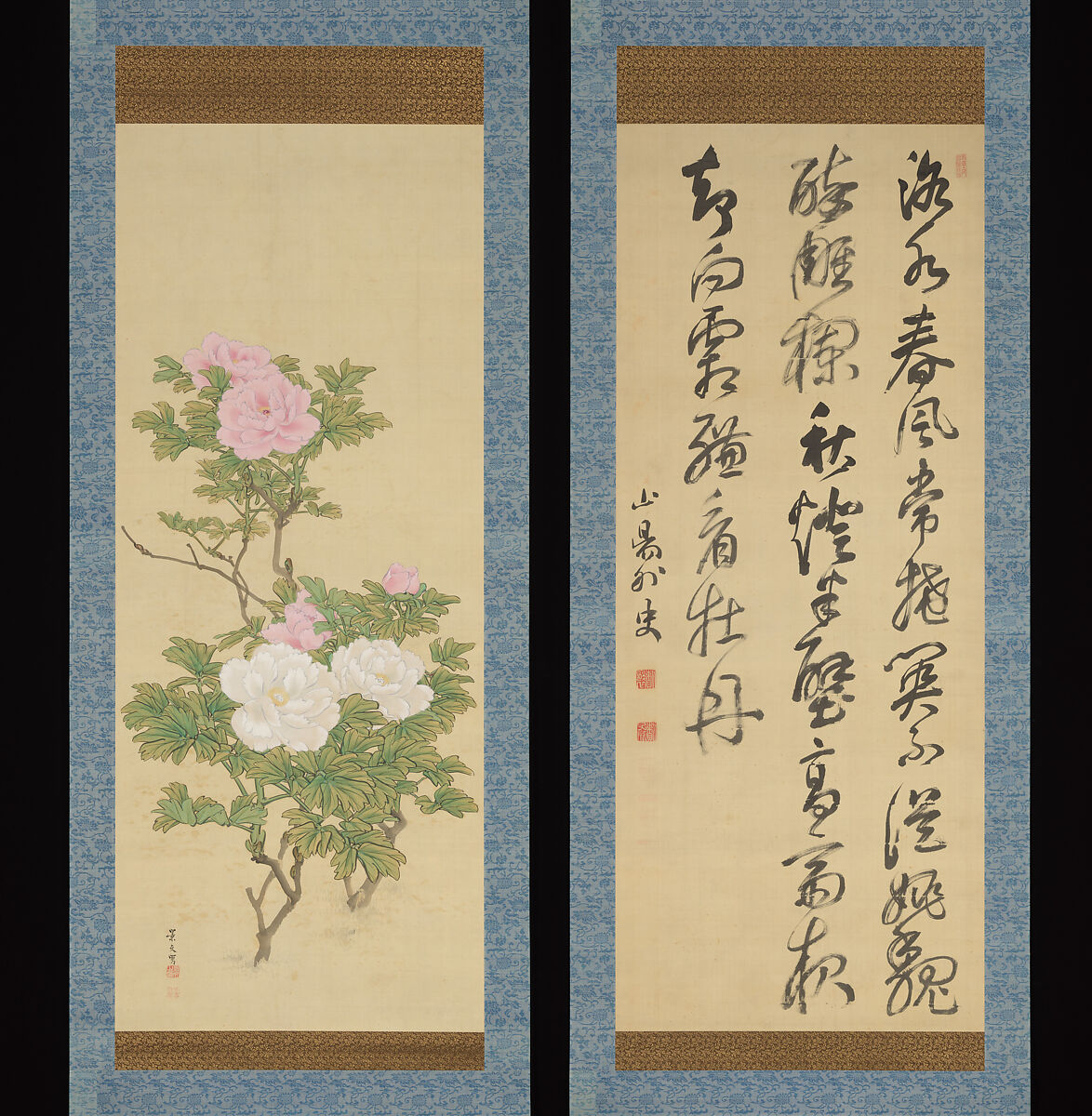 This artwork is meant to be viewed from right to left. Scroll left to view more.