Virgil Ortiz : revolution / Charles S. King
Author Charles S. King American
Virgil Ortiz Pueblo
Publisher Museum of New Mexico Press

Not on view
Virgil Ortiz: Revolution is a mid-career retrospective of New Mexico-based artist Virgil Ortiz (Cochiti Pueblo), which features more than 200 works of art selected by the artist. Ortiz is a multidisciplinary artist whose repertoire includes ceramics, photography, graphic art, fashion design, and glass art. He comes from a family of well-known potters, who have influenced the development of his distinct black-and-white geometric Cochiti style. Through this inherited pottery tradition, Ortiz intersects Cochiti Pueblo history and culture with post-apocalyptic themes, pop culture, and science fiction. One recurring theme in Ortiz's work is the reconciliation of past traumas—such as the events that led to the Pueblo Revolt of 1680—within futuristic settings, such as in his "Pueblo Revolt 2180" series.


The page displayed here features a line-up of Ortiz's "Venutian Soldiers" (2012), superhero-like warriors of the artist's invention. The soldiers possess super strength and magical powers, and stand over eight feet tall donning gas masks and other post-apocalyptic attire. Their society has been destroyed by the Castilians, and their environment has been overexploited. The Venutian Soldiers—who represent this devastation—must find a new hospitable land in which to live and rebuild their ancestral traditions.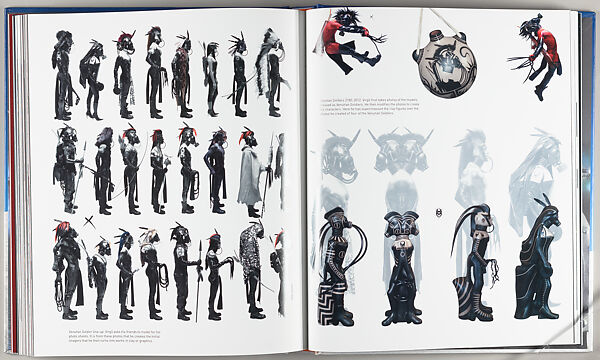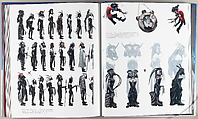 This artwork is meant to be viewed from right to left. Scroll left to view more.