Spinario (boy pulling a thorn from his foot)
Antico (Pier Jacopo Alari Bonacolsi) Italian

On view at The Met Fifth Avenue in Gallery 536
This is the best surviving example of Antico's Spinario – a boy pulling a thorn from his foot – which takes as its starting point a long-celebrated bronze figure, executed in the 3rd century BC and now, as in Antico's day, to be admired in Rome. The composition is the same as that of the Hellenistic bronze, but this is much more than a reproduction. A favorite of the Gonzaga family, the sculptor-goldsmith Pier Jacopo Alari Bonacolsi (ca. 1460–1528) earned – or perhaps adopted – the soubriquet Antico to signal his dedication to the art of ancient Greece and Rome, and in particular by his brilliant bronze reductions of famous antique statuary. In many instances his sources were Roman marble fragments, more or less complete. These were 'restored' by Antico who by rendering them in bronze evoked both the Greek large-scale originals that the Romans had copied and the exquisite Greek statuettes described by Pliny. Antico's works are therefore equivalent to contemporary humanist scholars' accurate reconstructions of ancient texts. But this is more than dry antiquarianism; Antico subtly animates the figure, conveying the boy's tension as he performs his tricky – and potentially painful – task. And he renders the piece, and the past itself, more precious by gilding the boy's curling hair and silvering his eyes. We become witnesses to two acts of concentration (using both senses of the word): the youth's, and the artist's. The Spinario became thereby the perfect ornament for the study of the dedicated scholar-prince.
#81. Body Language: Curator and Educator: Spinario (Boy Pulling a Thorn from his Foot)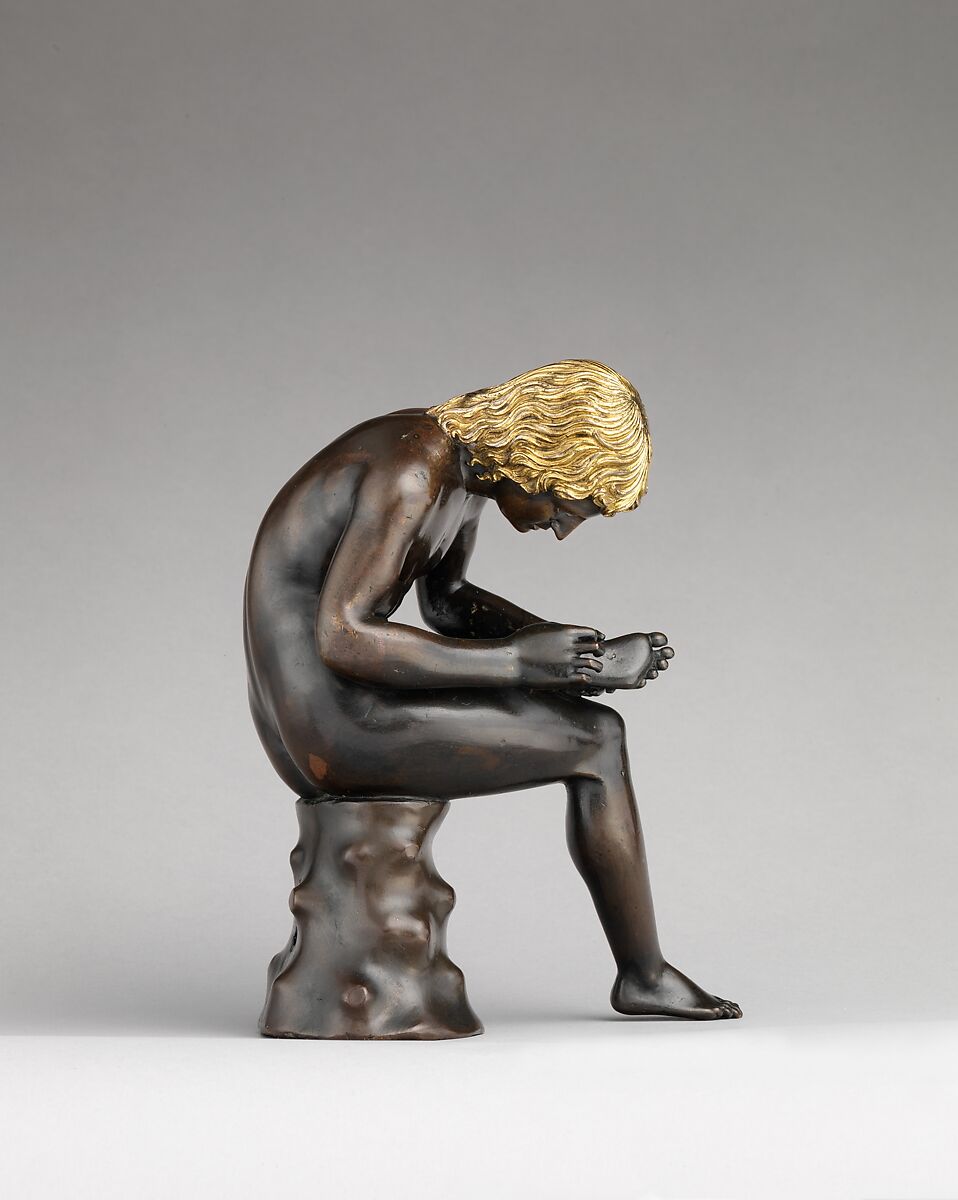 This artwork is meant to be viewed from right to left. Scroll left to view more.