Figurative Harp (Domu)
Not on view
Mangbetu aristocrats surrounded themselves with a wide variety of finely crafted utilitarian objects such as boxes, jars, stools, musical instruments, and weapons, many of which feature figurative elements. The designs of musical instruments are especially beautiful examples of the ingenious amalgamation of a functional artifact and the human form. In this example, the summit of the five-stringed harp is carved to represent a human head. The delicately rendered features of the face include stylized, barely open eyes that evoke a sense of reticence. The simply carved mouth echoes the shape and form of the eyes. The elongated representation of the head is a reference to the past Mangbetu practice of shaping the head during infancy by means of gentle pressure. The heads featured on harps such as these are also often decorated; this example is crowned with fine linear incising, indicative of traditional Mangbetu coiffures, and also includes an open brass ring in the left ear.

In more elaborately carved harps, the entire neck may be figurative. There is also considerable variation in the curvature of the bow and the angle of the neck's attachment to the resonator. The resonators come in two forms, the hourglass shape seen here or an oval shape, and usually feature two small sounding holes on the top surface. A variety of animal skins were used to cover the resonator, including pangolin scales, okapi and leopard pelts, and snake and lizard skins. In ethnic groups related to the Mangbetu, the anthropomorphic convention is carried further and legs are carved below the resonator so that the body of the harp is also the body of the figure.

Mangbetu harps have been studied in depth as art objects; their musical use, however, remains largely unexplored. Although they appear in historical photographs from the region, these rarely show the harp being played. As the Mangbetu enthusiasm for carving continued and harps became increasingly figurative, the ability to appropriately string and tune the instruments became increasingly difficult. Before long, the importance of the harp as a musical instrument was replaced by its importance as an art object. This evolution led to instruments that were completely unplayable—with strings too close together, unusable tuning pegs, flattened sound boxes, etc.—but undoubtedly visually striking.

The harp first appeared in Mangbetu culture some time in the late nineteenth century, and reached its peak during the colonial period of the early twentieth century. Many believe that the initial practice of carving representations of human heads was adopted from the neighboring Azande peoples to the north. As cultural and musical traditions have changed over the years in Mangbetu culture, musical instruments have appeared and disappeared. Some Mangbetu elders claim that the heads of the harp represented Queen Nenzima and King Yangala, and that after their deaths the practice of that particular style gradually declined. Today, harps are no longer found in Mangbetu society.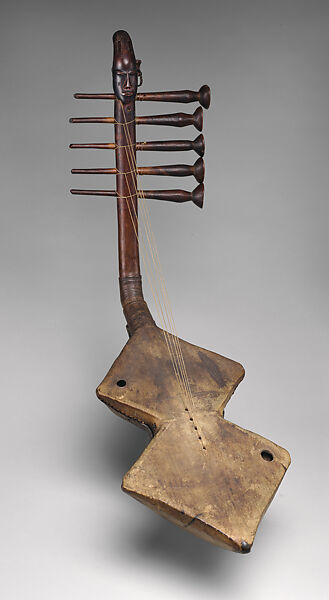 This artwork is meant to be viewed from right to left. Scroll left to view more.