Bracelet
Not on view
This magnificent ivory bracelet was the possession of a chief from the Yoruba kingdom of Owo. Scholars have suggested that items like this were worn at Ore, a ceremony that celebrated the kingdom's origins at Ife, the cradle of Yoruba civilization.

Twin chiefly characters bearing wrappers, beaded necklaces, and distinctive coiffures appear on either side of the bracelet, surrounded by a host of smaller figures organized along two registers. The figures are divided equally into upside-down and right-side-up sections, so that they can be "read" properly by both the bracelet's wearer and the observer. The repertory of subjects depicted include attendants, flute players, bound captives, equestrian warriors, and foot soldiers with severed heads. These figures illustrate the prerogatives and duties of chiefly life, suggesting an opulent existence built upon political power and military achievement. Aquatic imagery, in the form of two crocodiles and a human figure with mudfish legs, emphasize the ruler's relationship to Olokun, the god of the sea who brings wealth and fertility to his adherents. This connection is reinforced by the ivory's whiteness, which suggests the foam of the sea. Two pipe-smoking figures with elongated coiffures can be identified as the deity Eshu, a trickster figure who facilitates communication between the human and supernatural worlds. The appearance of this supernatural intercessor in conjunction with symbols of Olokun indicates the strong and productive nature of the relationship the ruler enjoys with the sea deity.

The approach evident in this bracelet's carving is characteristic of the style associated with Owo. The flattened faces, heavy-lidded eyes, inlaid pupils, and conical coiffures of projecting elements are typical of Owo ivories, as are the pierced, openwork style and use of a two-tiered composition.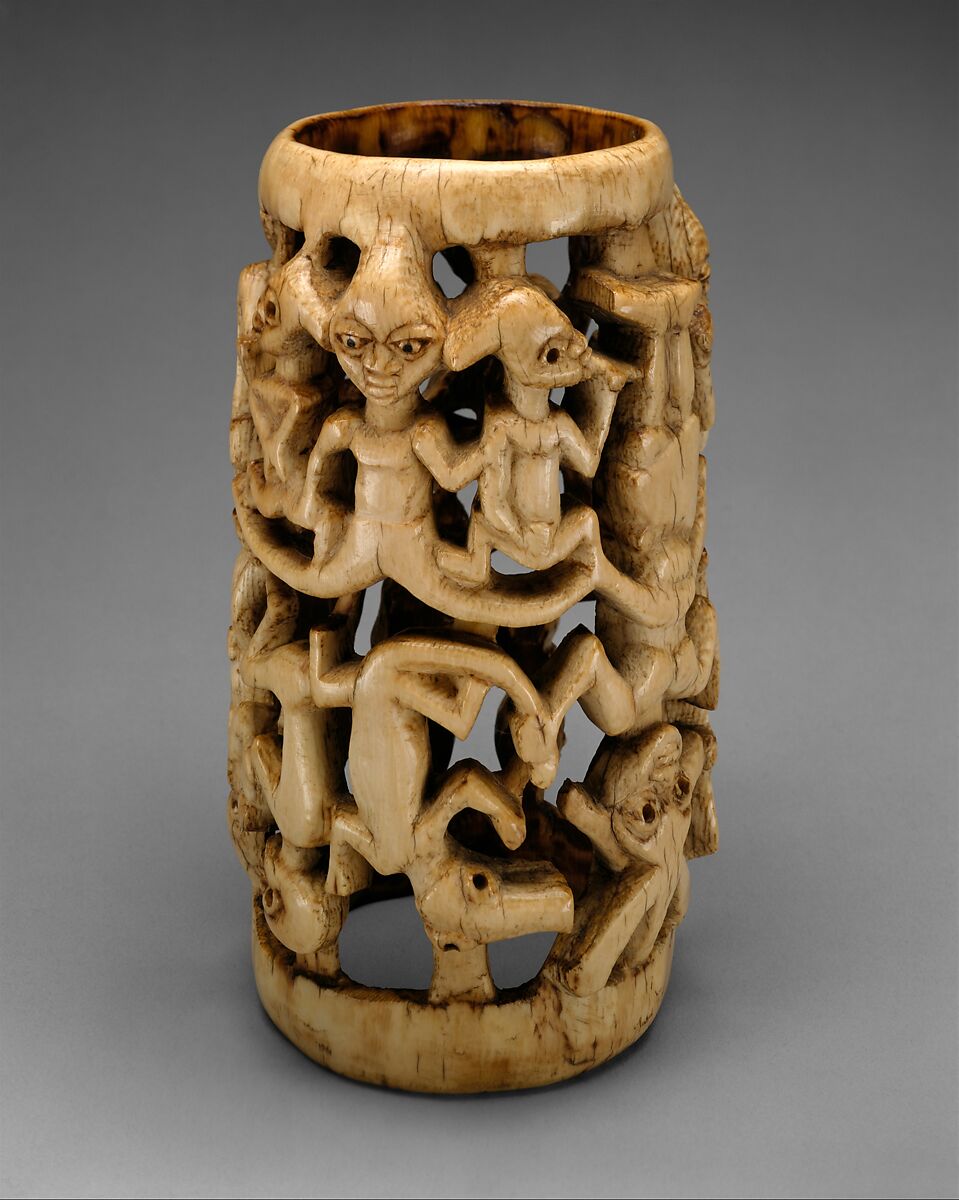 This artwork is meant to be viewed from right to left. Scroll left to view more.