Illuminated Gospel
Not on view
This illuminated manuscript of the Four Gospels was created at a monastic center in northern Ethiopia. Twenty full-page paintings depict scenes from the life of Christ and four portraits of the evangelists introduce the respective Gospel texts. The New Testament was translated from Greek into Geez, the classical language of Ethiopia, in the sixth century. Both this text and its pictorial format draw upon Byzantine prototypes, which were transformed into a local idiom of expression. Stylistically consistent, the paintings reflect the hands of two distinct artists. The color scheme consists of red, yellow, green, and blue. A stylized uniformity is reflected in the abbreviated definition of facial features and the bold linear articulation of the human form in black and red. Figures' heads are depicted frontally, their bodies often in profile. Bodies are treated as columnar masses encased in textiles composed of striated fields juxtaposed against one another.

This work is evidence of sub-Saharan Africa's historically complex interrelationships with Arabia, Egypt, and the eastern Mediterranean. The origins of civilization in Highlands Ethiopia can be traced to the sixth century B.C.E., when emigrants from Arabia merged with indigenous groups to develop the kingdom of Aksum. In the fourth century C.E., scholars from Alexandria converted the Ethiopian king Ezana, and Christianity became the official religion of a state that endured until modern times. Over the centuries, as the Ethiopian state expanded, monasteries were founded as centers of learning responsible for disseminating knowledge and consolidating the power and influence of the monarchy. In the Ethiopian Orthodox Church, the text of the Gospels was considered the most important holy writing; the miniatures at the beginning of this manuscript were intended to be viewed during liturgical processions. Such works were frequently presented to churches by distinguished patrons; they reflected both the prestige of royal benefactors and the erudition of the monastic scriptoria in which they were created. Recent research suggests that a member of Ethiopia's ruling elite may have commissioned this manuscript at Dabra Hayg Estifanos monastery for presentation to his or her favored church or monastery. Brief notations indicate that the church in question was dedicated to the Archangel Michael.
#1525. Illuminated Gospel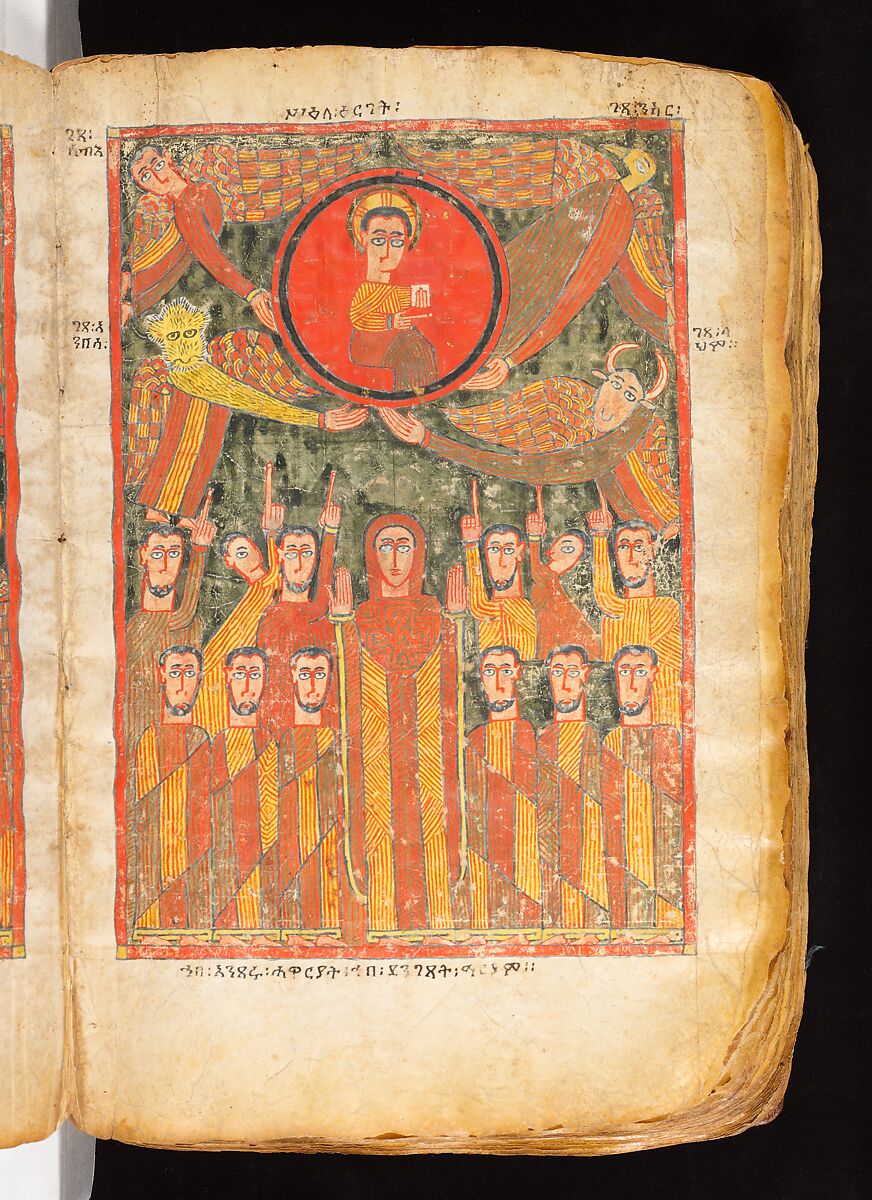 This artwork is meant to be viewed from right to left. Scroll left to view more.