Interior Hanging (arkilla kunta)
Not on view
Cloths of this type, known as arkilla kereka, are tent-dividers and marriage-bed hangings. Belongings of grandeur and refinement, they were the most costly textiles produced in the Niger River-bend region and were almost always woven on commission. This work was woven at Tillaberi in western Niger. Its aesthetic reflects the cosmopolitan engagement of weavers south of the Sahara with the formal vocabulary of North African textile traditions, and its patterns closely parallel those of Berber weavers. These patterns may have once had protective associations.

While adopting the visual motifs of its models, however, this work significantly differs from them in construction, revealing that West African weavers went to great lengths to translate into their own idiom the sensibility of North African trade cloths. Berber women weave wool cloths for clothing on a wide vertical loom thought to be of pre-Arabic origin, and the geometric designs they produce occur in bands along the weft. However, in the western Sudan, an area that includes Niger, men weave wool textiles on double-heddle looms, and the long, narrow fabric that is produced is cut into strips that are stitched together to form the completed cloth. In order to reproduce the effect of the North African cloths, the weaver had to calculate accurately the distance between motifs so that they match up once the strips were aligned. West African weavers thus relied upon a technically more challenging method that of their models when re-creating Berber designs.

This fabric, probably woven of wool, is now composed of four strips, each about 13 inches wide (originally it probably contained six strips, as comparable examples do). The stretchy wool warps are heavy to lift during weaving, and considerable tension must be placed on them in order to beat down the weft; therefore the cloth had to be sturdily constructed from strong yarns. The work's earthy palette of russet, dark brown, yellow, blue, and white is patterned with tapestry and supplementary-weft structures in weft-face bands. Each strip is subdivided into many horizontal registers, some solid, some featuring floating motifs. The areas of supplementary weaving result in a textile that has a distinct front and back. With its decorative designs exactly repeated and perfectly synchronized, the resulting cloth becomes a flawless continuum of dense pattern.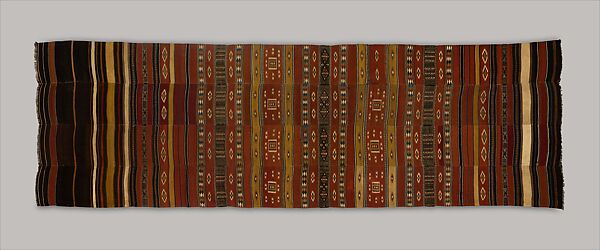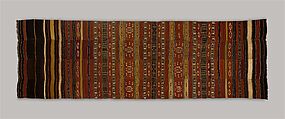 This artwork is meant to be viewed from right to left. Scroll left to view more.