Crucifix
Not on view
At its height in the fifteenth century, the Kongo kingdom was one of the largest in all of sub-Saharan Africa, spanning 115,000 square miles. Centered on an extremely strong monarchy, the elaborate social structure was pervasive across a complex system of trade and interchange between the forest of the north and the coast and savannah plains to the south.

In 1491, the Kongo king Nzinga converted to Christianity, thereby strengthening ties with his counterpart in Portugal. The adoption of Christianity allowed the kings of Kongo to participate in an international community of leaders beyond Portugal that included the Vatican. The Kongo kings found that local religious beliefs had significant parallels with Christianity and so they were easily able to synthesize the two. They did not feel that they had renounced one for the other.

The cross, a primary emblem of Christian ritual, was also a fundamental motif at the core of Kongo belief systems. The Kongo icon, called the Four Moments of the Sun, is a circle around a Roman cross. It depicts the four divisions of the day—dawn, noon, dusk, and midnight—which represents the cyclical journey of a human life from birth to the afterlife of the ancestors.

Fifteenth-century Kongo Christian artifacts such as this one are closely modeled on European prototypes. They were usually cast in an open mold using metal obtained from brass units of currency known as manillas, imported from Europe. In this work, Christ's hair and beard are distinctly European. The facial expression is anguished, with closed eyes, an open mouth, and a furrowed brow. The modeling of the figure is naturalistic and the proportions relate to European sculpture. Additionally, he is depicted with a fiery halo. All of these elements are clearly retentions of European models.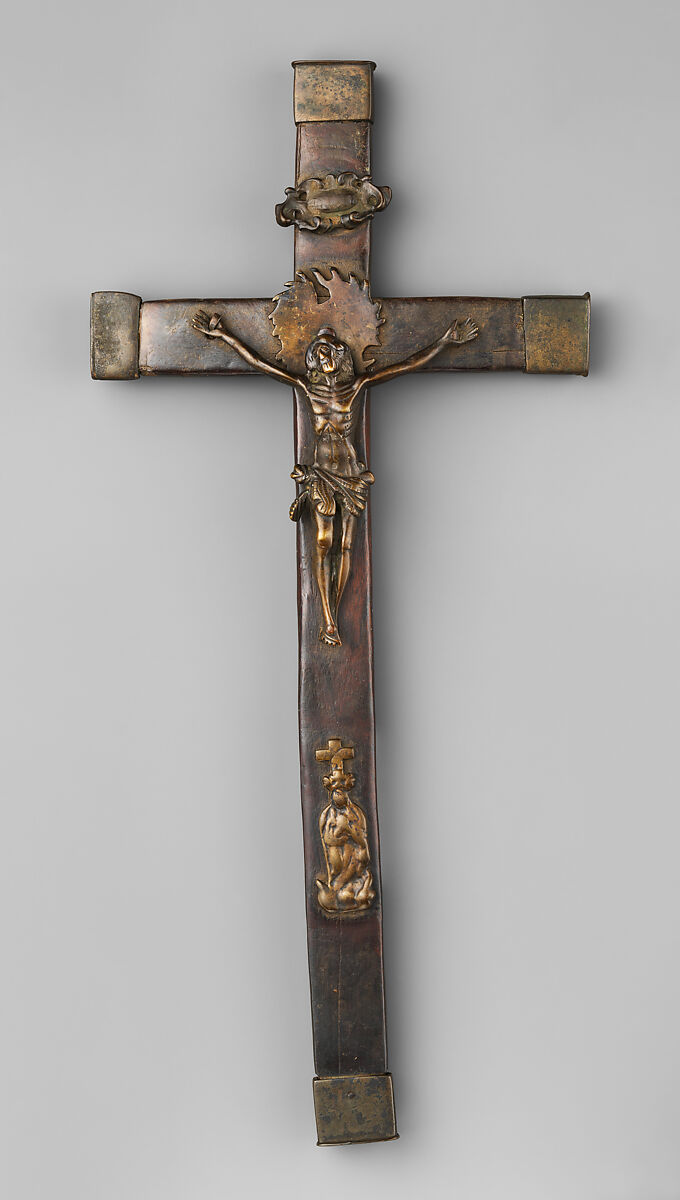 This artwork is meant to be viewed from right to left. Scroll left to view more.