Man carrying a box, possibly for offerings
Not on view
Temples were the most important institutions in Mesopotamian cities of the Early Dynastic period (2900–2350 B.C.). Each city had a patron deity, whose temple was built on a large platform and was visible for great distances in the flat countryside. The temple was literally a house for the god and a place of ritual, but it was also the most significant economic institution of the time, with large numbers of laborers to work its fields, produce goods for use in the temple, and to trade with distant lands. Temple building had its own series of rituals, including purifying the ground on which the temple would stand and dedicating foundation deposits to the resident god.

This figure of a nude man carrying a box on his head is a fine example of Sumerian sculpture in metal. Only certain categories of people were represented as nude in the Early Dynastic period: priests, athletes, mythological heroes, and prisoners of war. This figure, reminiscent of scenes depicting priests carrying offerings, carries an object that might be a temple foundation deposit or offering related to its building.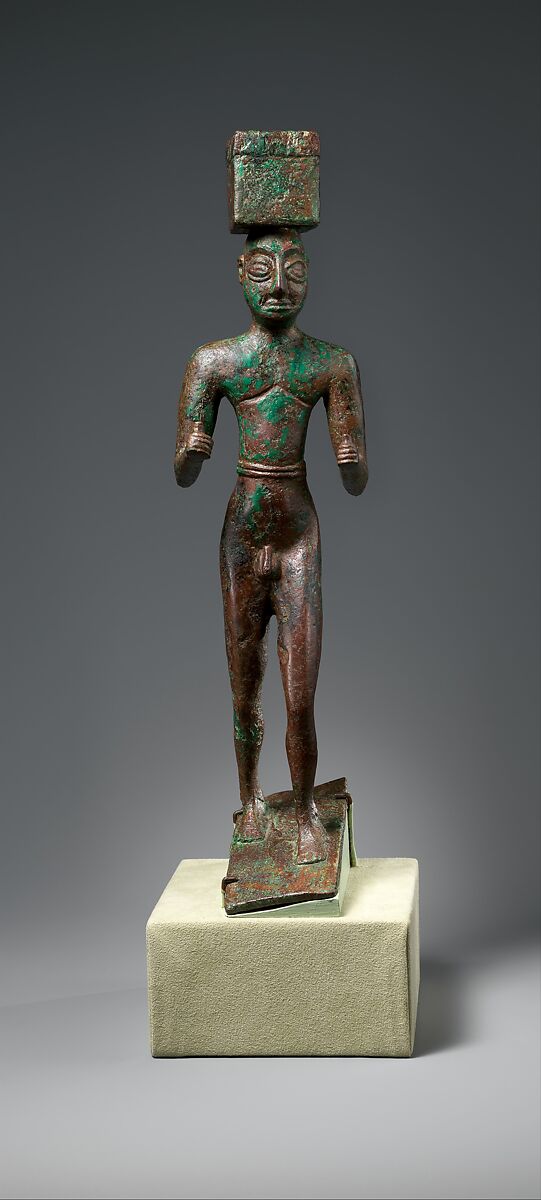 This artwork is meant to be viewed from right to left. Scroll left to view more.