Erasmus of Rotterdam
Albrecht Dürer German

Not on view
A Roman Catholic reformer and one the most important Netherlandish humanists, Erasmus of Rotterdam held a deep admiration for Albrecht Dürer, whom he praised in a eulogy as the greatest of graphic artists: "And is it not more wonderful to accomplish without the blandishment of colors what Apelles accomplished with their aid?" In likening Dürer to Apelles—indeed, in asserting the German's superiority over the Greek artist—Erasmus echoed a tradition dating back to antiquity of judging artists and the visual character of their work by the standards set by their predecessors. Dürer would certainly have appreciated the praise for his graphic talents. The portrait amply demonstrates the virtuous effects Dürer was able to achieve without the benefit of color or a liquid medium. Convincingly aligned at an angle to the picture plane, Erasmus stands writing in his study, with the books that indicate his substantial intellect and scholarship arranged around him. The vase of lilies probably refers to the purity of his mind, while the Latin and Greek inscription, prominently framed like a picture on the wall, underscores the scholar's humanistic interests: "This image of Erasmus of Rotterdam was drawn from life by Albrecht Dürer." Below are the date, 1526, in Roman numerals, and the artist's monogram.
Dürer met Erasmus at least once in Brussels and twice in Rotterdam during a trip to the Netherlands in 1520 and 1521. Although he sketched Erasmus several times during his trip, he did not execute the engraving until six years later, and only then with the encouragement of his close friend Willibald Pirkheimer; apparently, for certain reasons Dürer had been disappointed by the well-known Protestant reformer. Dürer based the portrait on a medal of 1519 in Pirkheimer's collection by Quentin Massys and reproduced the Greek inscription found on the medal, which states: "A better portrait his writings show." Presumably Erasmus agreed, because he made known his disappointment with this portrait to at least two of his colleagues. And yet, Dürer's Erasmus remains one of history's richest and most powerful depictions of scholarly preoccupation and the humanist ideal.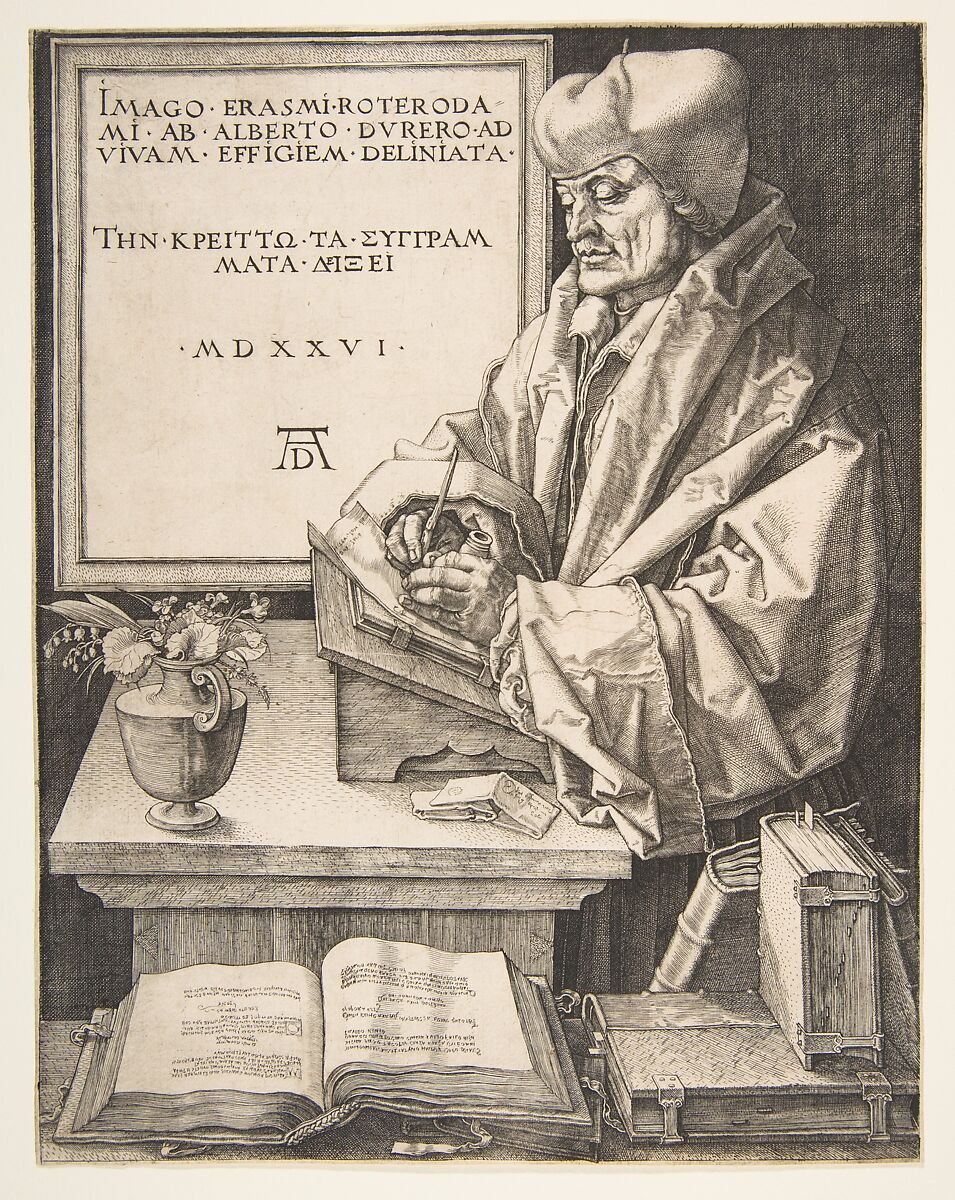 This artwork is meant to be viewed from right to left. Scroll left to view more.