Ornament Panel
Attributed to Agostino Veneziano (Agostino dei Musi) Italian

Not on view
Inspired by ancient Roman art, this ornament print was produced soon after Giovanni da Udine (1487–1564), working under the direction of Raphael, had completed a series of fresco decorations in the Vatican and other Roman palaces based on the painted ceilings of the emperor Nero's Golden House (Domus Aurea). This vast and luxurious Imperial palace on the Oppian hill, overlooking the present site of the Colosseum, had been buried when the emperor Trajan used it as the foundation for his Baths. Therefore, when Renaissance artists discovered the ancient Roman palace in the 1480s, it was necessary for them to enter through holes in the roof. Their enthusiastic investigations of the dark chambers and corridors revealed a playful and lively painted decoration such as they had never seen before. Since these subterranean rooms resembled caves, grotte in Italian, this type of decoration, in which delicate scrollwork linked a delightful assortment of motifs, including architectural pavilions, fictive cameos, and fantastic beasts, came to be called grotteschi, or grotesques.
Agostino Veneziano was one of the printmakers who, together with Marcantonio Raimondi and Marco Dente da Ravenna, was chiefly employed in engraving the designs of Raphael and his studio. Whether Veneziano was inspired by Giovanni da Udine's decorations in the Vatican logge or by his own explorations of the 'grottoes,' this print includes several motifs derived from the decoration of Nero's palace, including the square-, round-, and crescent-shaped frames enclosing scenes that appear to be sculpted in relief. The bound warriors at the base of a trophy of arms recall a similarly placed pair of satyrs in the room known as the grotta gialla (yellow grotto)—although there were other models for captives in Roman triumphal sculpture, the bound satyrs were well known to artists and often imitated. The sphinxes, winged children, and delicate strips of stylized foliage also have counterparts in the Golden House, yet Veneziano's dense and solid assemblage of motifs has little in common with either the light and airy manner of the Imperial decorations or Giovanni da Udine's faithful revival of the style. Perhaps this highly decorative print, which would have provided a useful repertory of ancient elements for other artists, represents Veneziano's own experimentation with the antique sources.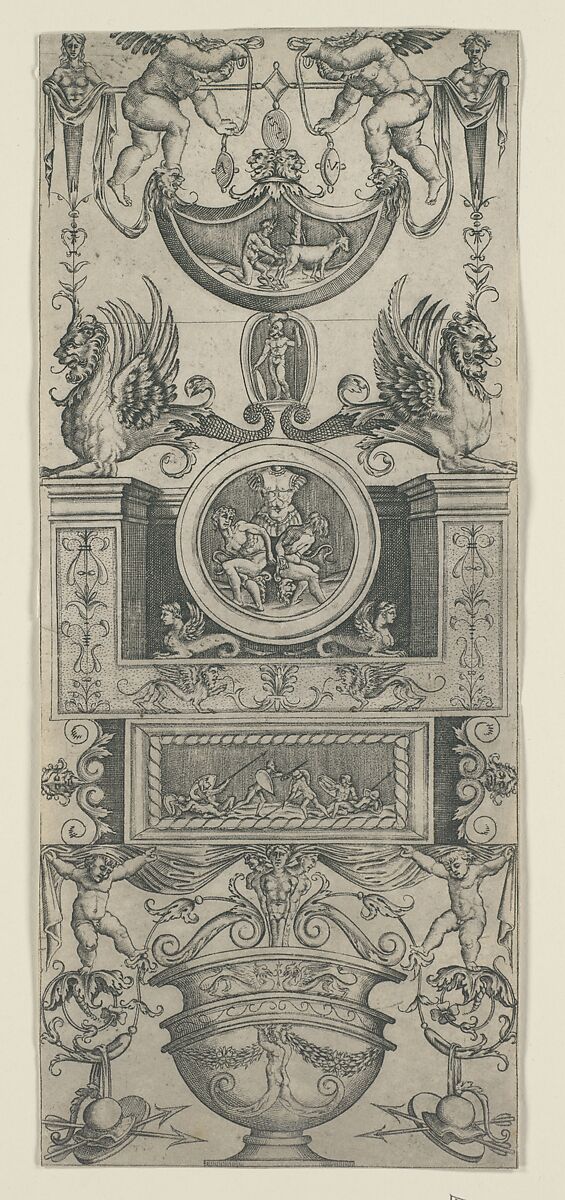 This artwork is meant to be viewed from right to left. Scroll left to view more.