Farnese Hercules
Hendrick Goltzius Netherlandish

Not on view
It was Goltzius' poor health as well as his desire to see the treasures of Rome that inspired him to travel to Italy in 1590—91. Supposedly, the famed Dutch printmaker traveled incognito in order to avoid social obligations that might distract from his real purpose, which was sketching and studying antique sculptures. The ancient Roman statue known as the Farnese Hercules had been discovered in the Baths of Caracalla in Rome in 1546, and installed in a courtyard of the Farnese family's palace on the banks of the Tiber, where it was one of the highlights of the Roman tour for visiting scholars, connoisseurs, and artists. When Goltzius drew the statue, the legs he saw were substitutions that had been made by Guglielmo della Porta in 1560—although the ancient legs had been found soon after the rest of the statue, Michelangelo convinced the Farnese that the modern ones were just as good.
The two figures looking up at the massive statue in the lower right corner of the engraving have never been satisfactorily identified. Perhaps, as was suggested by the eighteenth-century Dutch artist and collector Cornelis Ploos van Amstel, they are a self-portrait and a portrait of the artist's stepson Jacob Matham, who was also an engraver.
The Farnese Hercules shows to excellent advantage the virtuosic technique that Goltzius had developed, in which the swelling and tapering line pioneered by Cornelis Cort is exaggerated to the point that it becomes a focus of interest in itself. As the line winds around the forms, expanding and contracting, it gives great sculptural force to the curves and bulges of the hero's body. The engraving by Goltzius, unusual for its viewpoint and its inclusion of observers, was one of a long series that had spread the fame of the statue, including one by Jacob Bos (41.72[2.63]) that provides the more common front view of the Hercules.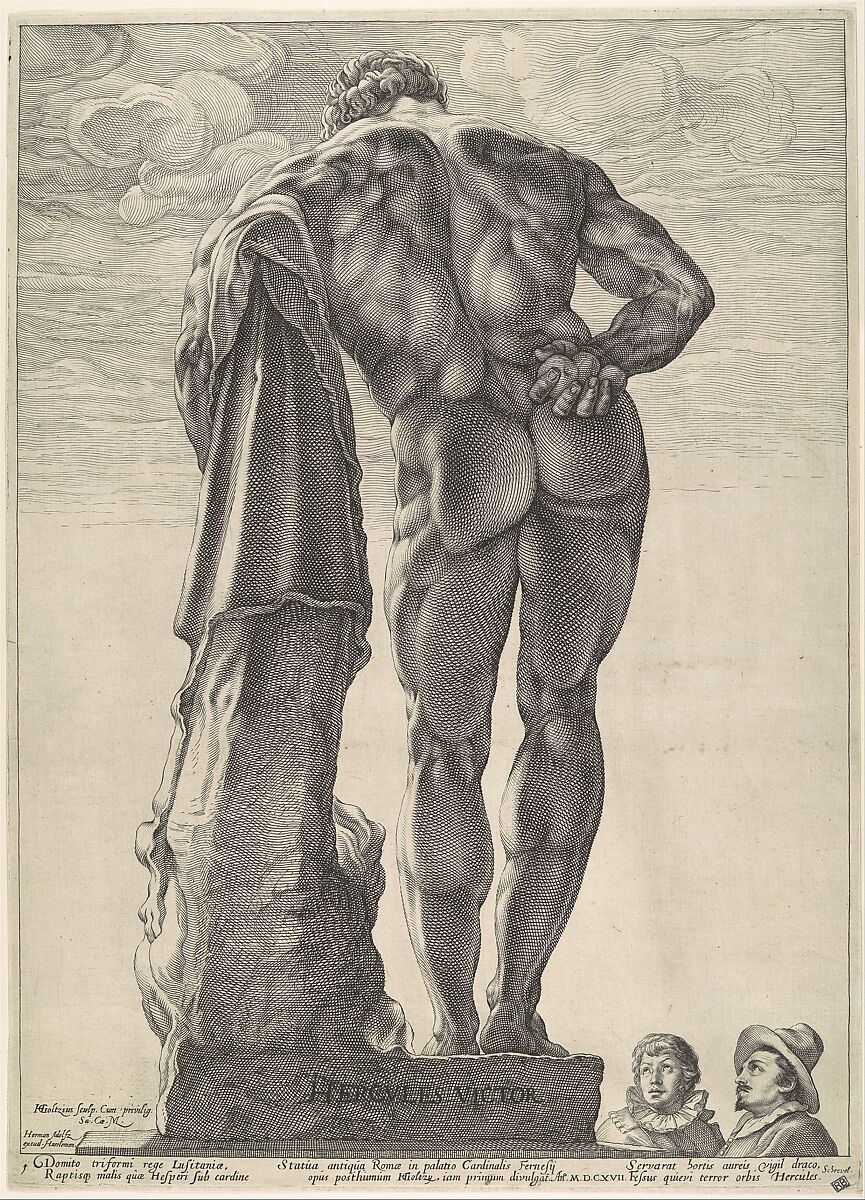 This artwork is meant to be viewed from right to left. Scroll left to view more.