Étagère
Alexander Roux French

On view at The Met Fifth Avenue in Gallery 736
This rosewood étagère is a superb example of the Rococo Revival style, known variously during the mid-nineteenth century as "modern French" (because at the time it was the latest style), "French antique," "Louis Quatorze," and "Louis Quinze." The latter two descriptions refer to French eighteen-century furniture styles popular during the reigns of Louis XIV (1643–1715) and Louis XV (1715–1774). Referencing eighteenth-century French sources, furniture in the Rococo Revival style is characterized by curved, cabriole legs, strong C- and S-curves and scrolls, and the extravagant use of carved, naturalistic ornament, particularly flowers. In keeping with the mid-nineteenth-century belief that certain styles were appropriate for specific rooms in the home, the Rococo Revival style was popular for the decoration of formal parlors, or reception rooms, and this étagère, combined with a parlor suite of seating furniture and a fine center table, would have inhabited a luxurious interior.
Synonymous with the colloquial term "whatnot," étagère is a French word describing an arrangement of shelves, often with a mirrored back, used in nineteenth-century homes for the display of small decorative objects. Labeled by the New York cabinetmaker Alexander Roux, this étagère has been dated between 1850 and 1857 on the basis of the business address on the paper label affixed to the back. Related console tables, similar to the lower half of this piece, are owned by the Museum of the City of New York and the Thomas Gibbons house in Madison, New Jersey (now a part of Drew University).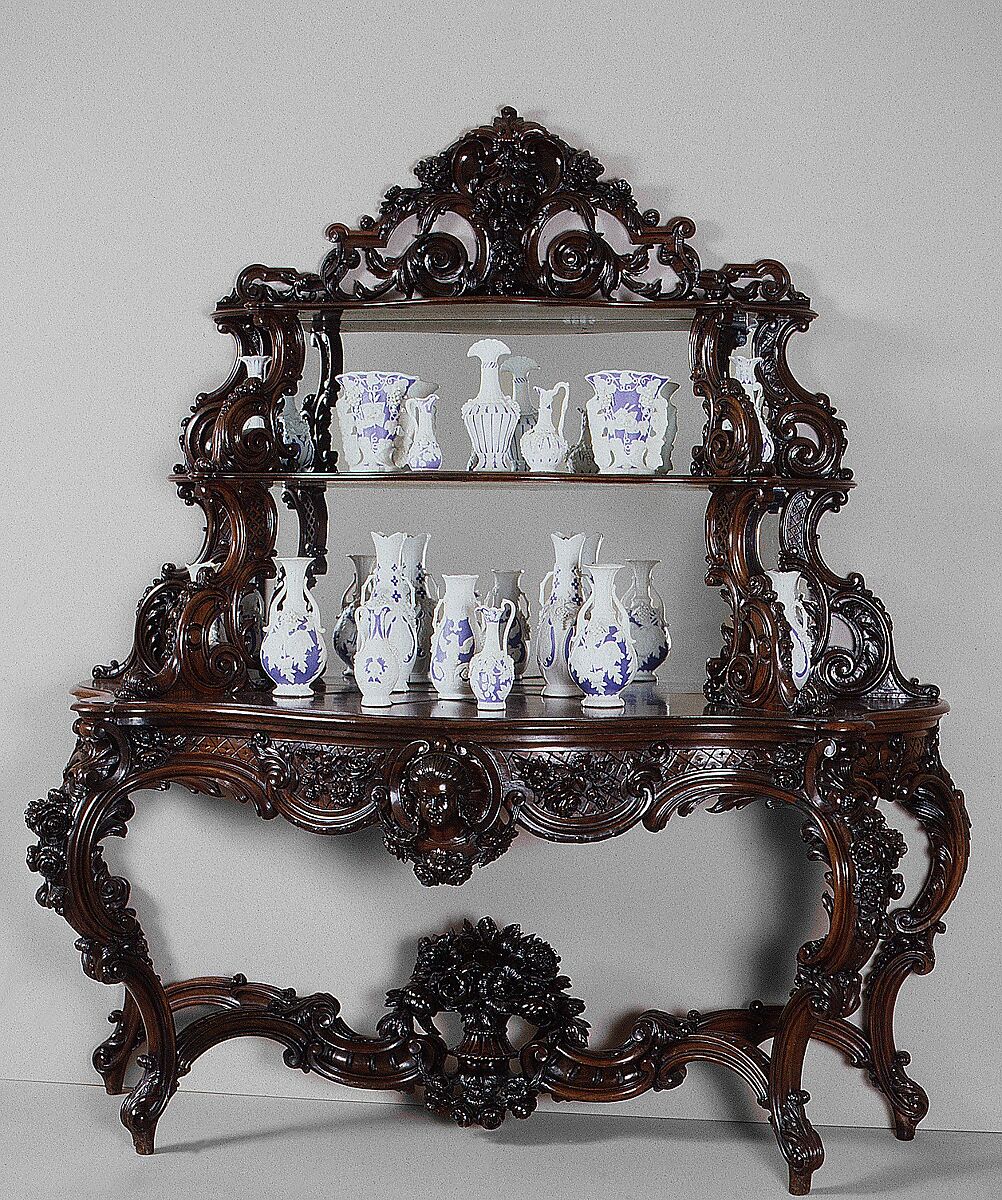 This artwork is meant to be viewed from right to left. Scroll left to view more.