Landscape of the Four Seasons (Eight Views of the Xiao and Xiang Rivers)
Sōami Japanese

Not on view
Sōami was the last of three generations of painters and connoisseurs (Nōami, Geiami, Sōami) who served as artistic advisers to the Ashikaga shoguns in Kyoto. Like other ink painters of his time, the artist took Chinese landscapes—often rendered on small album leaves—as inspiration for large-scale, panoramic screens and sliding doors that set a contemplative mood in the mansions and temples of the capital. These screens refer to the landscape of southern China, probably known to the artist through a handscroll prized by the Ashikaga shoguns, Eight Views of Xiao and Xiang, painted by Muqi, a thirteenth-century Chinese monk-painter.

Vignettes of daily life are here unified into a monumental ink landscape showing the progression of the four seasons, beginning with misty spring at far right and ending with wintry, snow-covered rooftops at far left. In this, Sōami conformed to a long-standing preference in Japanese interior decoration for seasonal imagery, which was rooted in the art and poetry of the Heian period (794–1185).
#8855. Landscape of the Four Seasons (Eight Views of the Xiao and Xiang Rivers)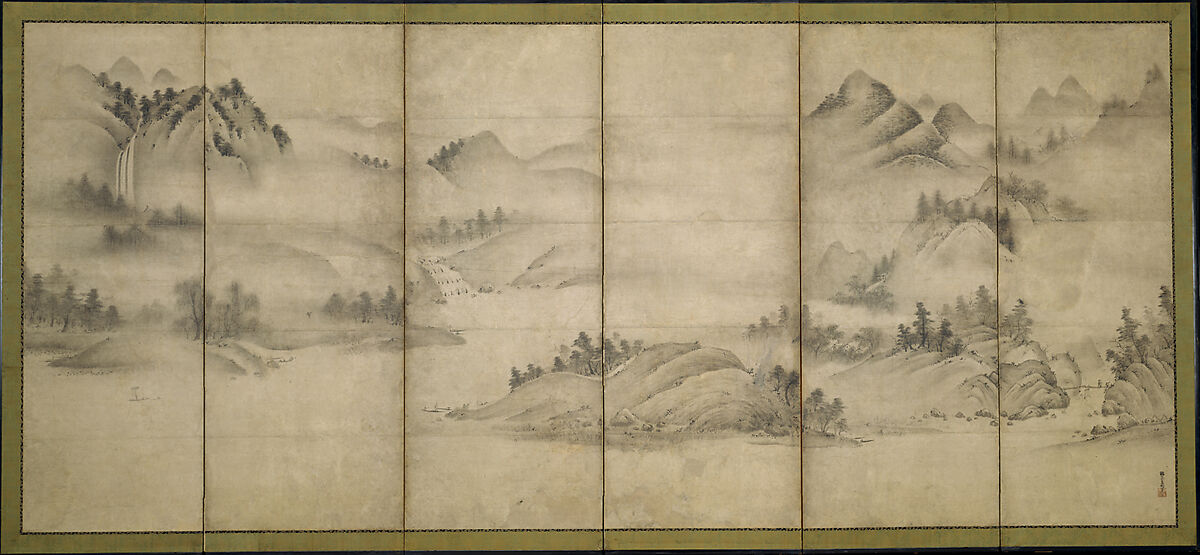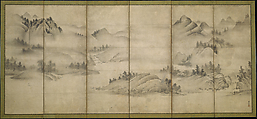 This artwork is meant to be viewed from right to left. Scroll left to view more.