Seated Statue of Hatshepsut
New Kingdom
On view at The Met Fifth Avenue in Gallery 115
Hatshepsut, the most successful of several female rulers of ancient Egypt, declared herself king sometime between years 2 and 7 in the reign of her stepson and nephew, Thutmose III. She adopted the full titulary of a pharaoh, including the throne name Maatkare, which is the name most frequently found on her monuments. Her throne name and her personal name, Hatshepsut, are both written inside oval cartouches making them easy to recognize.

In this life-size statue, Hatshepsut is shown wearing the nemes-headcloth and the shendyt-kilt. These are part of the ceremonial attire of the Egyptian king, which was traditionally a man's role. In spite of the masculine dress, the statue has a distinctly feminine air, unlike most representations of Hatshepsut as ruler (for example, two over life-size statues that represent her kneeling, 30.3.1, and standing, 28.3.18). The kingly titles on the sides of the throne are feminized to read "the Perfect Goddess, Lady of the Two Lands," and "Bodily Daughter of Re."

Traces of blue pigment are visible in some of the hieroglyphs on the front of the statue and a small fragment on the back of the head (see attached photograph) shows that the pleats of the nemes-headcloth were originally painted with alternating blue and yellow pigments.

Statues that depict Hatshepsut in a more feminine form, like this one, are in a seated pose, with hands flat on the knees. This suggests that they were intended to receive offerings and would probably have been placed in less public areas of the temple such as the chapels on the upper terrace. Two of these statues depicts her unequivocally as a woman (29.3.3).
#3276. Seated Statue of Hatshepsut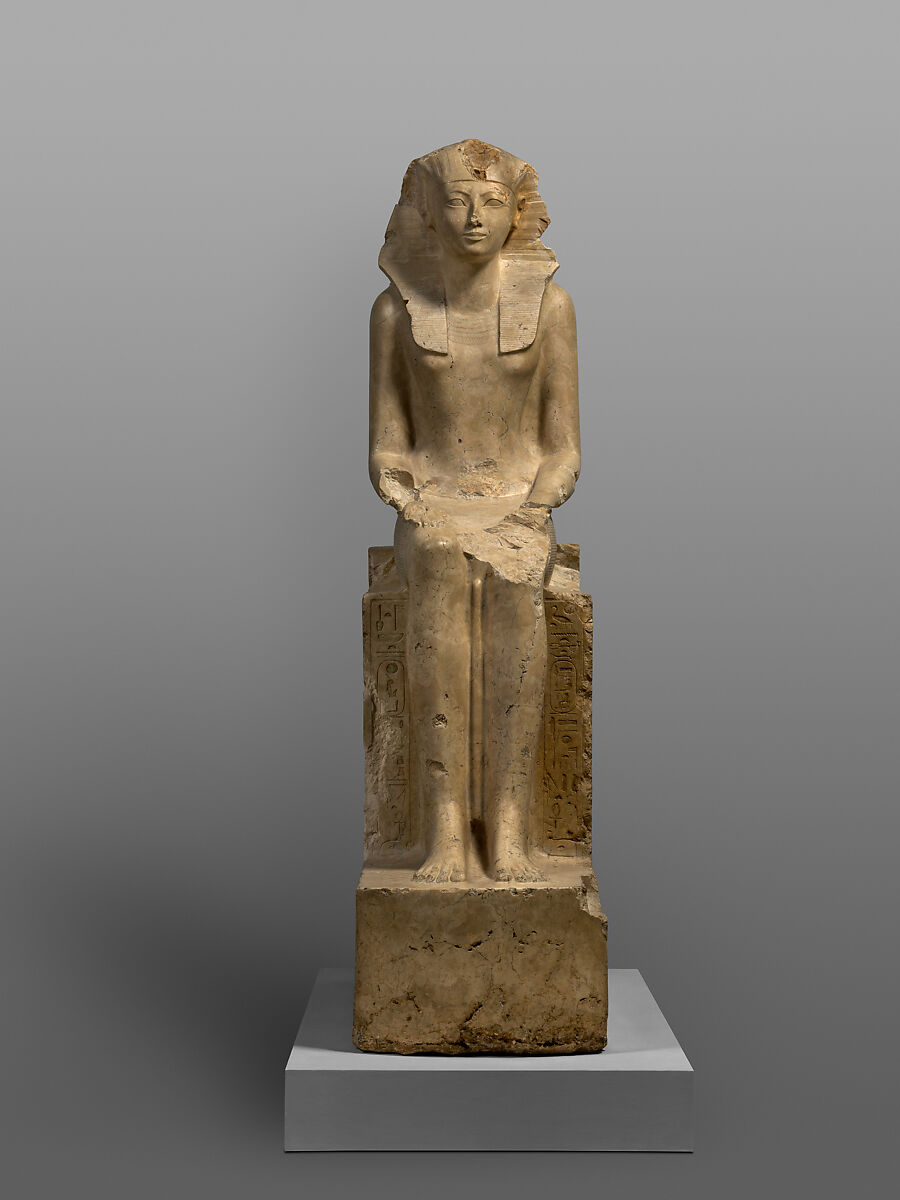 This artwork is meant to be viewed from right to left. Scroll left to view more.