Hatshepsut in a Devotional Attitude
New Kingdom
On view at The Met Fifth Avenue in Gallery 115
For the ancient Egyptians, the ideal king was a young man in the prime of life. The physical reality was of less importance, so an old man, a child, or even a woman who held the titles of pharaoh could be represented in this ideal form, as in this representation of the female pharaoh Hatshepsut. Although many of Hatshepsut's statues depict her as the ideal king, the inscriptions always allude to her feminine gender, sometimes by using both masculine and feminine grammatical forms, sometimes by including her personal name, Hatshepsut, which means "foremost of noble women."

This statue was one of a pair that stood on either side of a granite doorway on the upper terrace of Hatshepsut's temple at Deir el-Bahri. She is represented wearing a king's nemes-headcloth, false beard, and shendyt-kilt. Her pose, with both hands open and resting on the front of the kilt, is a devotional gesture that was first used in statues of the Middle Kingdom pharaoh Senwosret III who lived some three hundred years before Hatshepsut. Senwosret had dedicated six statues of this type in the temple of the Middle Kingdom's founder, Mentuhotep II, which is just south of Hatshepsut's temple. As happened throughout Egyptian history, the official architecture and sculpture produced in Hatshepsut's reign was influenced by prototypes developed in earlier periods.

Statues that were in more prominent positions in Hatshepsut's temple, such as this one, the sphinxes (31.3.166), and the colossal kneeling statues (29.3.1), all portray Hatshepsut as the ideal king. Several others that may have been placed in less public areas such as the chapels on the upper terrace, depict her in a more feminine form including a seated statue in hard white limestone (29.3.2), and a granite statue which depicts here as a woman (29.3.3).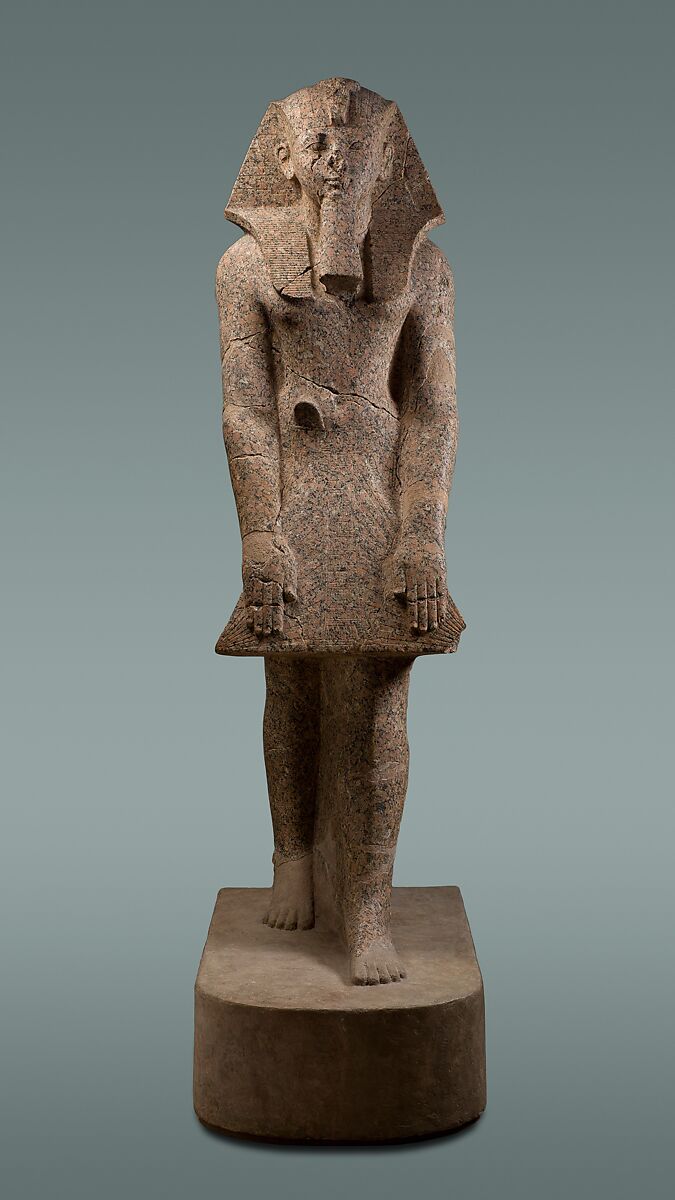 This artwork is meant to be viewed from right to left. Scroll left to view more.