Bes-image Rattle
Third Intermediate Period
On view at The Met Fifth Avenue in Gallery 136
This Bes-image represents the beneficent Egyptian domestic god with his typical leonine face, dwarf body, and tail. Holes at the top of his feather crown and in his ears held rattling elements. The god extends a dom nut to a baby in his arms with Bes-like features. Monkeys are seated around his legs and alongside his crown. Behind his feathers is the incised figure of a bound oryx.


The Bes-image is part of a repertoire of figures created in a distinctive spotted faience from dynasty 22 into dynasty 26. The center of production was the eastern Delta, in particular Bubastis and Tanis; this was an area where Near Eastern peoples had long been interwoven in the population; at this time it was also a center for the settlement of Libyan tribal peoples. Possibly these conditions influenced this particular production.

Through their appearance, the figures all allude to the goddess Bastet. In particular, many details evoke the myth termed "The Return of the Faraway Goddess." The feline / leonine Bastet was angry with the god Re and left Egypt for Nubia. Re wanted her back again, so he sent the god Thoth, who, taking the form of a monkey, lured her back with fables. Bes, musicians and dancers accompanied the train of the returning goddess, whose arrival brought the return of good fortune to Egypt. Figures of Bes (2015.11; 04.2.103), the cats (04.2.119, 04.2.120, 21.6.61), the monkeys (44.4.17), the nude females with 'Nubian' hairstyles (66.99.71), and the musicians (89.2.217, 17. 194.2441, 17.194.2459, 41.6.7) all relate to this tale; the figure with a conical 'foreign' cap carrying a vessel of beer (86.1.55) and the bound oryx behind the feathers of the Bes-image (2015.11) both allude to controlling the goddess's dangerous nature.

The Bes-rattle must have been used in a ritual performances, and Bes's known role as a protector of women and childbirth suggests the rituals addressed such concerns. Bastet, too, had a role as the nurse of a divine child king, and the allusions to her stories may have invoked her power for similar ends.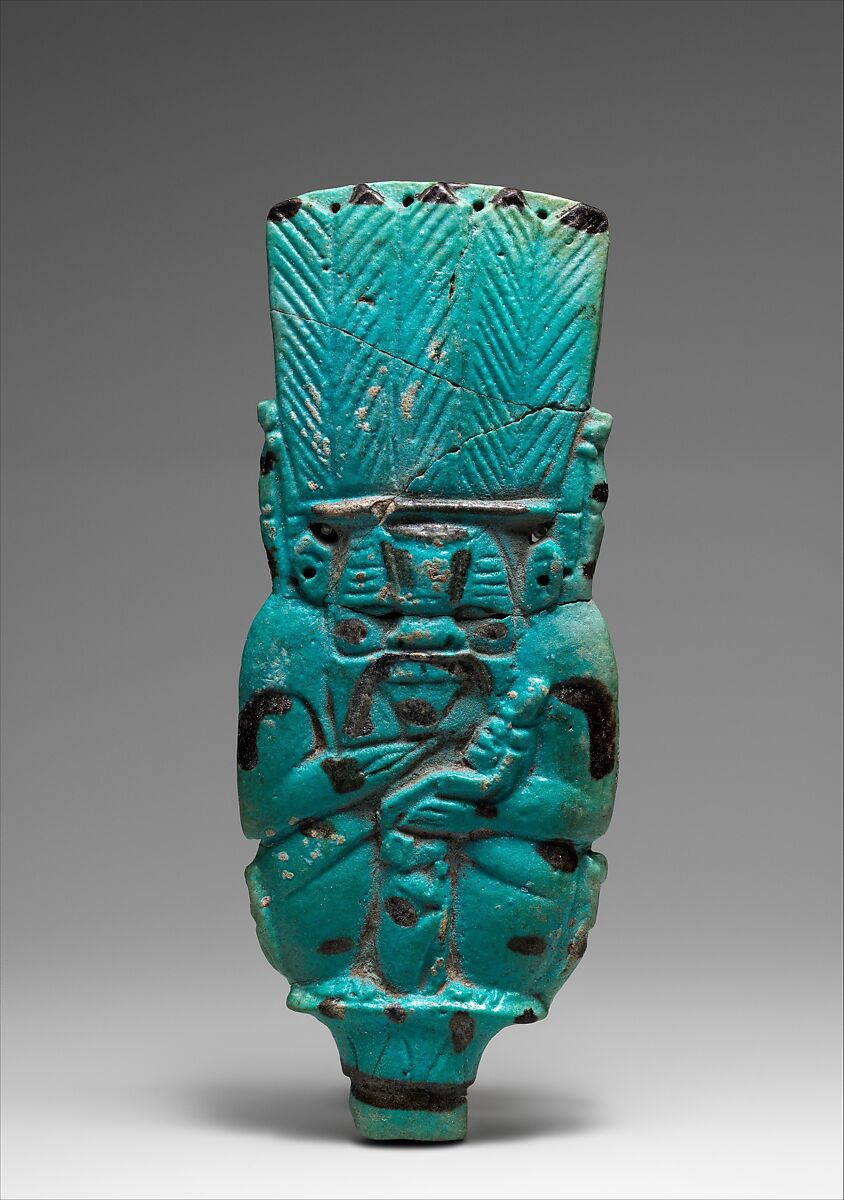 This artwork is meant to be viewed from right to left. Scroll left to view more.