Double Saddlebag (Khorjin)
Not on view
The Shahsevan, whose name means "those who love the king," are Turkic nomads. Their historical migratory range reaches from the southwest shores of the Caspian Sea to the southern part of Transcaucasia. Art historians have identified Shahsevan weavings, including a variety of small-format bags, only in the past half century.

Many Shahsevan weavings from the nineteenth and twentieth centuries, such as this example, show a striking relationship with Anatolian carpets from the fifteenth and sixteenth centuries. These older textiles are called Memling carpets, after the fifteenth-century Netherlandish painter who depicted them in his religious works. The khorjin saddlebags, such as this piece, continue the Memling design: it features repeated geometric octagonal medallion motifs with stars and angular hooks that develop from the step-like edges. Many of the motifs found on Shahsevan textiles are thought to be centuries-old tribal emblems, a symbolic language that today we are frequently unable to decipher.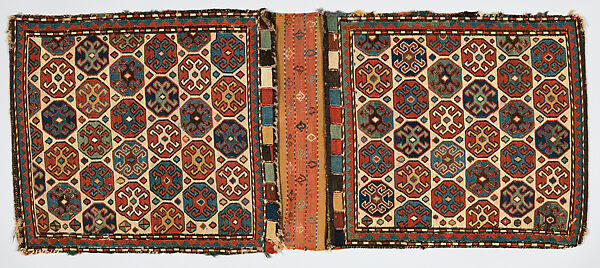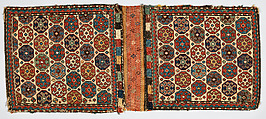 This artwork is meant to be viewed from right to left. Scroll left to view more.