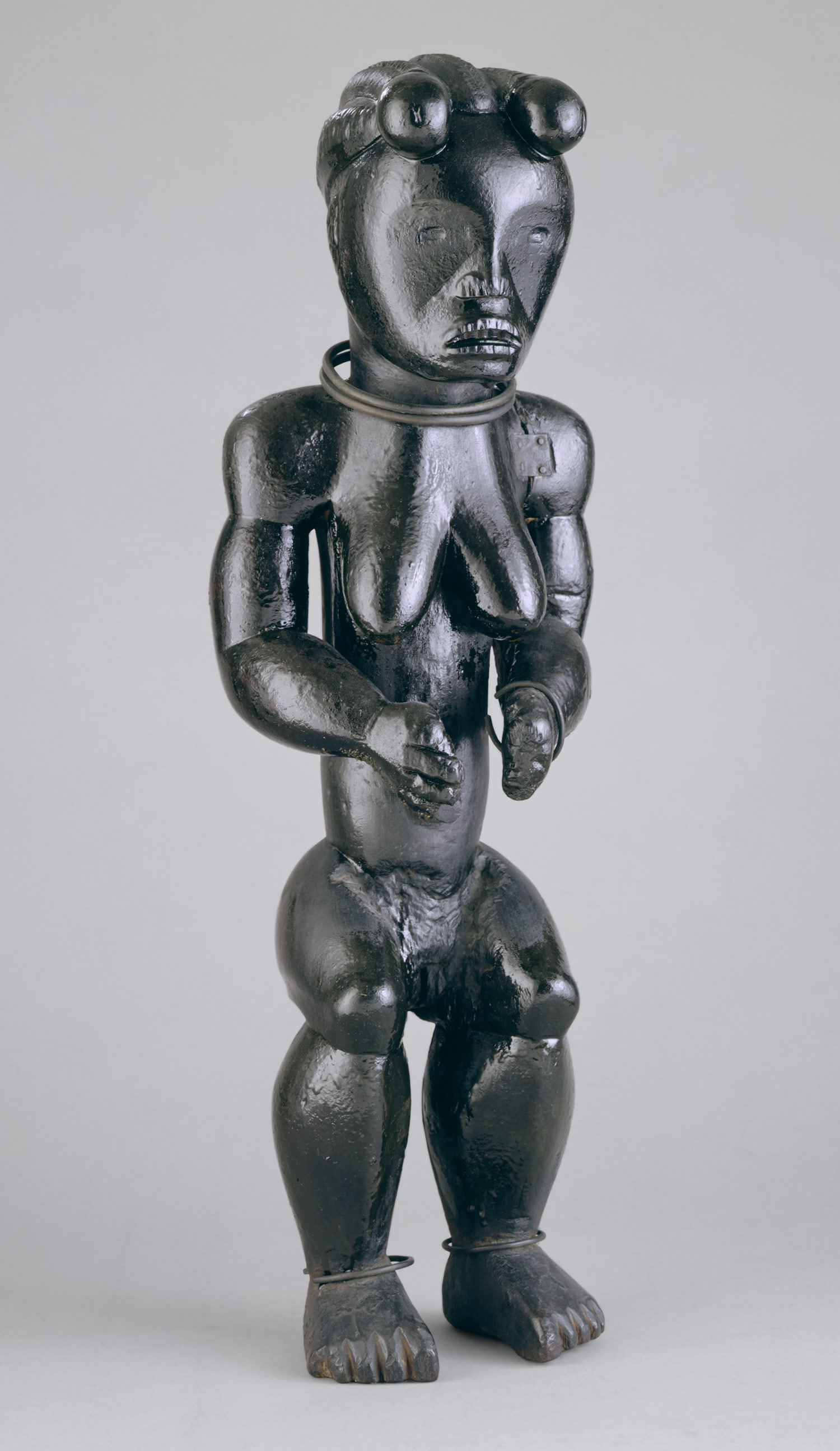 ---
Reliquary Figure, 19th–20th century
Fang peoples; Gabon
Wood, metal, oil patina; H. 25 1/5 in. (64.1 cm)
The Michael C. Rockefeller Memorial Collection, Gift of Nelson A. Rockefeller, 1965 (1978.412.441)

The Fang peoples of the Republic of Gabon derive a sense of continuity with their past as well as a communal cohesiveness in the present through an ancestral cult known as bieri. Bieri reliquary figures, such as the one seen here, embody the qualities that the Fang admire most in people—namely, tranquility, vitality, and the ability to hold opposites in balance. These qualities are conveyed in this figure through the juxtaposition of an infant's large head with the developed body of an adult, and the contrast of a static, symmetrical pose and passive, expressionless face with the tension of bulging muscles on the arms and legs. Bieri figures are often embellished with elaborate coiffures, facial scarification, jewelry, horns, and other emblems of spiritual power. This one has been adorned with metal bangles around the neck, ankles, and wrist. Its lustrous surface is a result of repeated ritual purifying applications of palm oil. Many Fang sculptures continue to exude the oil long after their original treatment.
In the dense rainforests of Central Africa, many cultures, including the Fang, derive a sense of cohesion from the preservation of family genealogies in figurative sculptural traditions. These wooden bieri figures and heads are placed on top of bark containers that hold the skulls of important clan ancestors. It has been suggested that the earliest reliquary guardians were wooden heads, but the tradition expanded during the 1950s to include busts and full figures, male or female. The carved head or figure mounted on top of the reliquary box guards the sacred contents against the forbidden gaze of women and uninitiated boys. It appears that the full figures, as opposed to the heads, are also used as puppets in theatrical initiation rituals associated with the bieri in which young male initiates are presented to deceased ancestors.
During the 1920s and '30s, many European artists took an interest in the sculptural traditions of Africa. The formal and aesthetic qualities of many types of African art were echoed in modern works. This figure was previously owned by both the painter André Derain and the sculptor Jacob Epstein.
This work of art also appears on 82nd & Fifth: Prime of Life
and Connections: Africa
Related