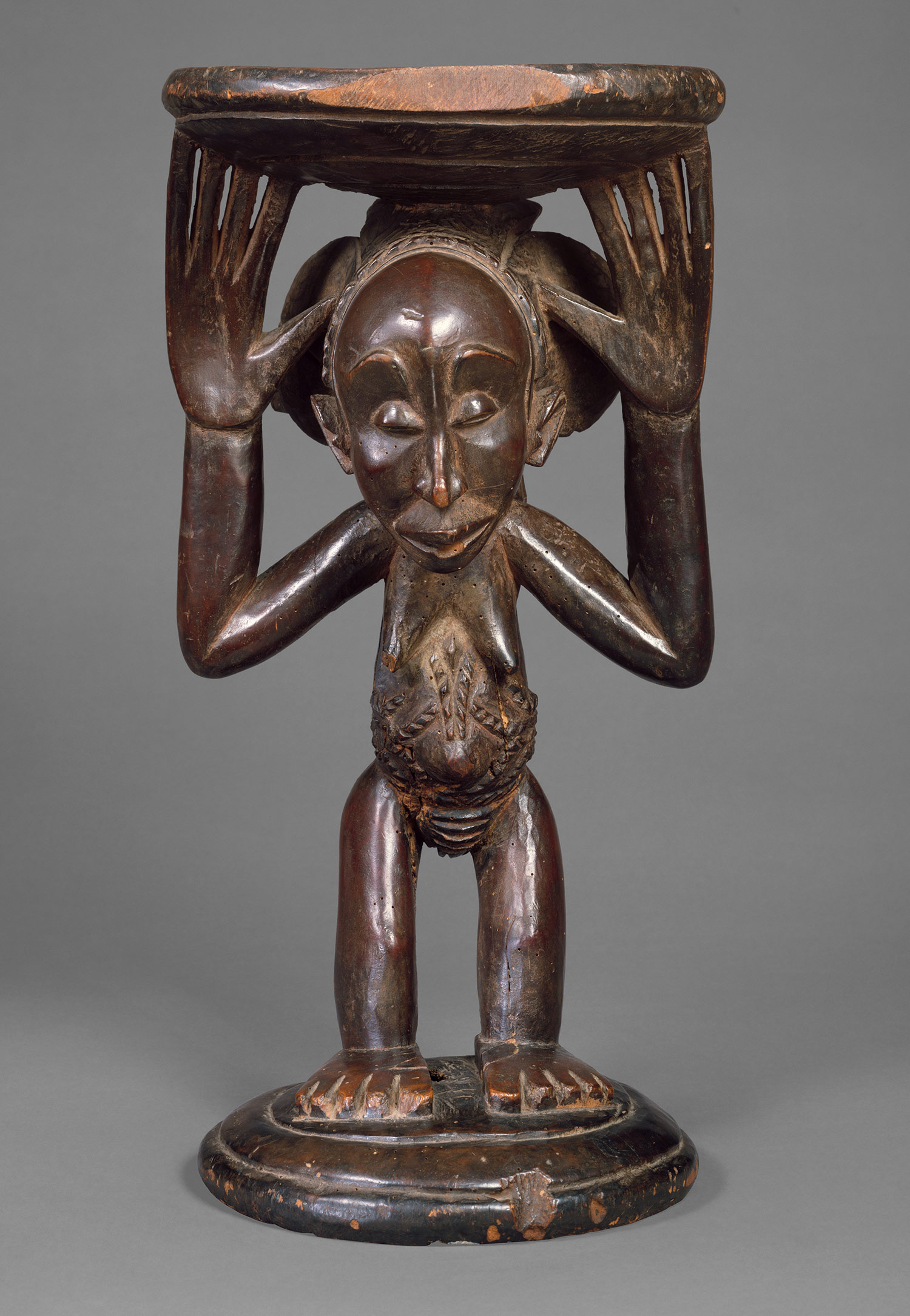 ---
Stool, 19th century
The Buli Master
Luba peoples; Democratic Republic of Congo
Wood, metal studs; H. 24 in. (61 cm)
Purchase, Buckeye Trust and Charles B. Benenson Gifts, Rogers Fund and funds from various donors, 1979 (1979.290)

In many cultures throughout the southeastern region of the Democratic Republic of Congo—indeed, throughout much of Africa—the seats of leaders are important symbols of power and authority. Among the Luba, rank and title are indicated by the progressive ascension to more prestigious forms of seating, beginning with simple woven mats and proceeding onto animal pelts, clay thrones, and finally, sculpted wooden thrones such as this example from the Museum's collection. Stools figure prominently in the rigorous rites of royal investiture as Luba kings and chiefs accede to power and acquire the appropriate symbols of office. The main function of the stool was not to serve as a seat, but rather as a receptacle for the chief's spirit. Stools are such powerful emblems of a chief's power and identity that they were often kept secretly in a village different from their possessor's to reduce the risk of theft or desecration. The stools, swathed in white cloth and fastidiously guarded, were brought out only on rare occasions, reinforcing the notion that they and their insignia were not intended for human eyes, but rather for those of the spirit world. Among the Luba, all royal stools are considered replicas of an original prototype that was given to their first king, Mbidi Kiluwe, at the time of his investiture.
The seat of this royal Luba stool is supported by a standing female figure who balances it on her head and the tips of her elongated fingers. Her small, pear-shaped body is detailed with elaborate cicatrization markings on the stomach and abdomen that, in past generations, enhanced a woman's body as signs of beauty and civilization. Despite being a patriarchal society, the Luba peoples trace succession and inheritance through the female line. Consequently, caryatid figures that support chiefs' stools generally depict female ancestors. This Luba sculptural tradition was designed to identify and glorify the king, chiefs, and titled officials who constituted the complex hierarchy of leadership within the Luba empire.
Within this tradition of royal Luba artifacts, the styles of a few artists have come to be recognized and singled out. Scholars attribute this stool to the Buli Master, who was known to imbue his works with particular emotional intensity. Other formal characteristics of the Buli Master's corpus include enlarged, flattened hands turned palm forward; a heavy, four-lobed coiffure crisply undercut at the back of the neck; and an expressive, mournful face. With its slightly aquiline nose, arching brows, and pursed lips, the face wears an expression often interpreted as suffering by Western viewers. The entire sculpture, carved of a single piece of soft wood, is now covered with a lustrous patina, the result of multiple applications of oil to the stool's surface.
This work of art also appears on Connections: Africa
Related