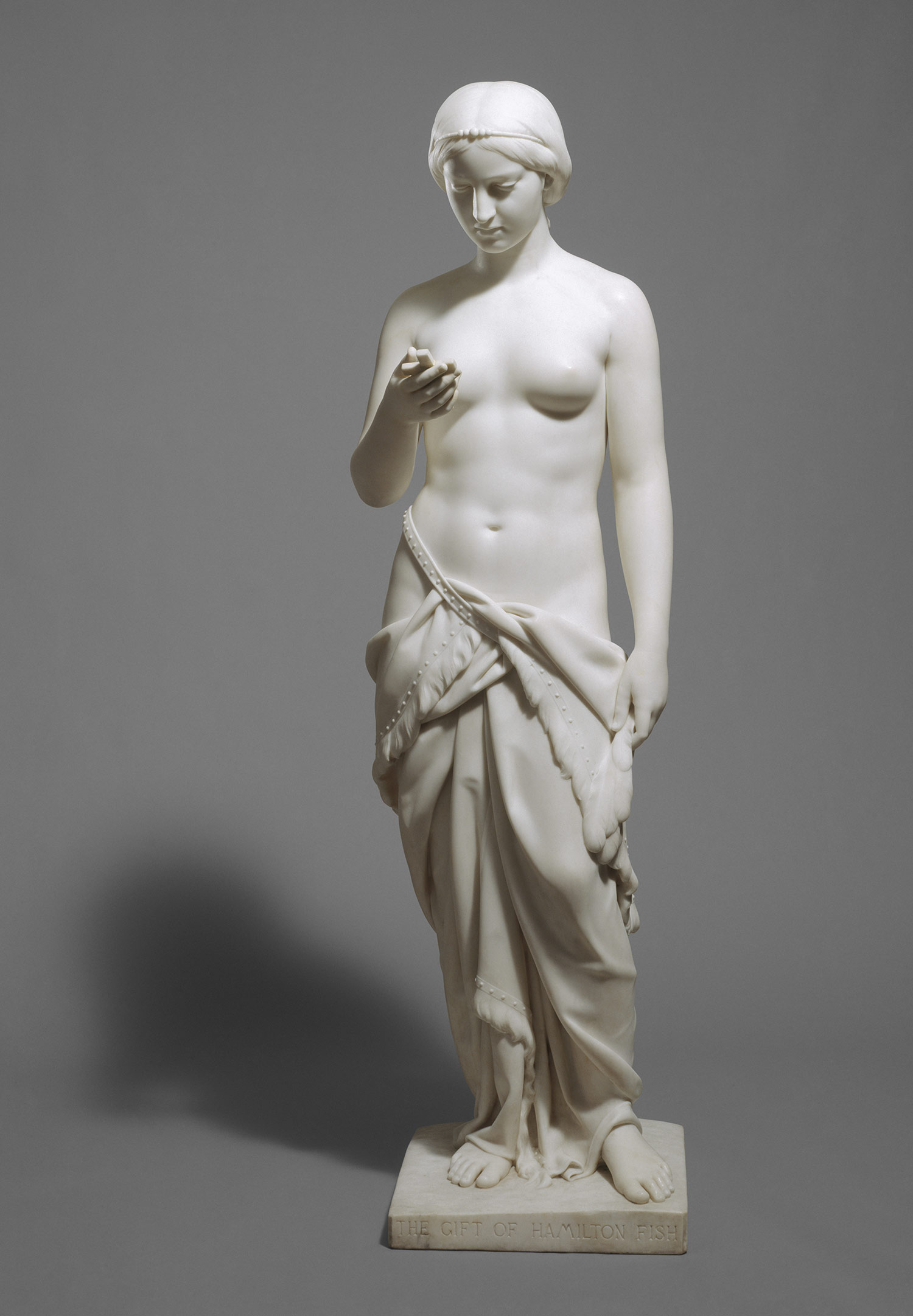 ---
Indian Girl, or The Dawn of Christianity, 1853–56; this carving, 1855–56
Erastus Dow Palmer (American, 1817–1904)
Marble; 60 x 19 3/4 x 22 1/4 in. (152.4 x 50.2 x 56.5 cm)
Bequest of Hamilton Fish, 1894 (94.9.2)

Hamilton Fish, a United States senator and former governor of New York, gave Palmer a commission for an unspecified ideal piece. The artist set out the narrative content of his planned sculpture in a letter to Fish in late 1852. His first full-length figure would illustrate "the Dawn of Christianity Upon the Aborigines … [and would] symbolize the first impression of civilization upon the native of this country." He selected a young Native American woman to hold in her hands the props that unlock the symbolic intent of the sculpture: in her left hand, wild bird feathers have been forgotten in favor of the elevated crucifix in her right hand. The fleshy figure is semi-nude, dressed below the waist in a deerskin with a wampum border secured by a girdle.
Palmer began modeling the Indian Girl in 1853. The marble was begun in 1855 and completed the following year, cut at least in part by Palmer's studio assistants Charles Calverley and Launt Thompson. Soon thereafter Palmer staged his exhibition of twelve "Palmer Marbles" in New York City, with the Indian Girl as the centerpiece of the show. There was general public approbation of this work and the sculptor's obvious literary intent for it, although one critic writing about the 1856 exhibition noted, "Whatever significance [Indian Girl] may have, its story has no bearing upon the merits of the statue as a work of Art." Nonetheless, he went on to express the predominant reaction, that "in short, it is a beautiful, original composition."
Related