Figure: Female
Not on view
In western Madagascar, important Sakalava families place there dead in rectilinear wooden enclosures whose corners are embellished with figural sculptures of women, men, and birds. This sculpture of a woman originally adorned such a gravesite. Its bent knees, elaborate coiffure, and full bosom emphasize an ideal of female imagery that was originally paired with a male figure to suggest fertility and regeneration.

The location of these figures and the orientation of the funerary structure relate to an astrologically based system of thought known as vintana. Sakalava peoples believe that the date and time of one's birth determines one's destiny, and that for each individual there exist certain points on the lunar calendar that are more or less auspicious. This system is expressed spatially through the four cardinal directions (east, west, north, and south) so that a person's vintana can be depicted by its position on a rectangle. On the tombs, male and female sculptures are frequently depicted facing each other diagonally, from opposite corners of the structure. This arrangement describes the least favorable coupling of vintana, and is considered taboo. Scholars have suggested that this reversal of prohibitions actually reinforces the sculpture's associations with fertility and abundance. In Sakalava culture, such relaxation of social mores marks events associated with birth and regeneration, such as the beginning of the New Year. It is possible that their depiction on gravesites represents a similar affirmation of fecundity.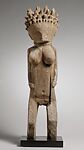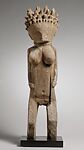 This artwork is meant to be viewed from right to left. Scroll left to view more.