Kòmò Helmet Mask (Kòmòkun)
Komo or Koma Power Association
Not on view
Kòmò associations create helmet masks like this one that awe audiences and reflect members' great power and knowledge. Kòmò is one of the most widespread and revered power associations across West Africa. Local chapters in the region cultivate knowledge of flora and fauna and develop the capacity to harness spiritual energy in order to counteract malevolence and help people in their daily lives. Power association leaders work with community members to address concerns related to their families, career goals, personal relationships, and health. The helmet masks kòmò associations sponsor are enhanced over time as leaders expand their knowledge.

Sculptors carve a domed head, gaping jaws, and either large ears or long horns projecting from the back into a single piece of wood to create a wooden armature. The most knowledgeable kómó members add diverse materials to the base the sculptor provides. The forms artists create in wood do not represent any single animal. Rather, sculptors combine characteristics of several of the most fearsome creatures in the wilderness. Elements attached to helmet masks include animal horns, tusks, porcupine quills, bird skulls, feathers, textiles, and other less readily identifiable materials, each an indication of the specific knowledge and power of the person who adds it to the wooden base. A mixture of earth, sacrificial materials, and pulverized medicinal plants coat the assemblage and increase the power associated with the mask.
Kòmò associations sponsor dynamic performances distinguished by music and masquerade. Performers wear heads of kòmò, or kòmòkunw (sing.: kòmòkun), similar to the one shown here, and full-body outfits constructed from locally produced cotton and bird feathers. They position the helmets so that the long mouths extend outward from their foreheads. The masqueraders carefully balance the wooden masks as they move to prevent them from crashing to the ground. During nightlong performances, kòmò experts reinforce their authority as they identify malevolent forces, track down criminals, and offer individuals solutions to their problems.

Blacksmiths are integral to the creation of kòmò helmet masks. Esteemed for their abilities to turn iron ore into usable metal and trees into wooden sculptures, blacksmiths are distinguished from other members of the community. They often live in separate quarters and marry only among themselves. Their specialized knowledge and technical abilities earn them great respect. Blacksmiths contend with dangerous and powerful spiritual forces as they transform raw materials into tools and sculptures. Their knowledge and mastery of these forces are evident in the kòmò helmet masks that combine terrifying forms in wood with potentially harmful materials to create objects that benefit individuals and the community.
#978. Kids: Kòmò Helmet Mask (Kòmòkun), Part 1
Playlist

978. Kids: Kòmò Helmet Mask (Kòmòkun), Part 1

979. Kids: Kòmò Helmet Mask (Kòmòkun), Part 2

989. Kids: Kòmò Helmet Mask (Kòmòkun), Part 3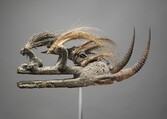 This artwork is meant to be viewed from right to left. Scroll left to view more.