Veranda Post: Equestrian Figure and Female Caryatid
Olowe of Ise Nigerian

On view at The Met Fifth Avenue in Gallery 828
This monumental work was one of a series of carved architectural supports designed for the exterior courtyard of a Yoruba palace. It was commissioned by a king from the most renowned master sculptor in the history of Yoruba art, Olowe of Ise.

The two-tiered composition embodies a formal dynamism that established Olowe's exceptional artistic reputation. Its principal personage, an equestrian warrior, is depicted frontally above a female caryatid with arms raised in three-quarter view. Through this contrast in their alignment, the figures at once reflect distinct attitudes while relating to each other fluidly. The compressed style of the upper half also contrasts with the greater degree of openness below. At the base two smaller figures radiate outward at oblique angles.

In addition to the inventive dynamism of their overall design, works by Olowe are noted for the attention given to surface detail. The mounted warrior holds a spear and pistol in either hand, and his vest, saddle, and horse's headgear are articulated through deeply carved linear motifs. While innovative in its formal interpretation, the subject of this work is a classic emblem of regional leadership. In Yoruba art such equestrian figures identify their patrons with martial conquest achieved through physical might.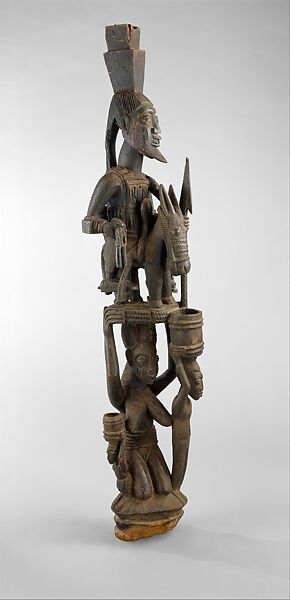 This artwork is meant to be viewed from right to left. Scroll left to view more.