Contest between Athena and Poseidon
Antonio Fantuzzi Italian
After Rosso Fiorentino Italian

Not on view
Together with Léon Davent, Jean Mignon, and the Master IV, Fantuzzi was one of four artists who worked at Fontainebleau during the three years of intense productivity, 1542–45, when so many etchings were produced after designs for the palace decoration. Of Bolognese origin, Fantuzzi was an assistant to his compatriot Primaticcio in the decoration of the palace (his name appears in the accounts from 1537 onward). Fantuzzi seems to have begun etching with little training—his early works are marked by undisciplined hatching and a number of technical problems. However, he soon developed a more regular, although still quite free, style. This print, in which loose, graceful contours surround forms shaded by dense areas of crosshatching at the edges, yet largely untouched in the center, is characteristic of his style. The even distribution of dark and light over the surface undermines the sculptural presence of the lively and elegant figures and mitigates against the suggestion of depth. The flattening and intertwining of forms is characteristic of the Fontainebleau School as a whole and no doubt derives in part from this print's lost model, a composition by Rosso Fiorentino that probably once belonged to the decoration of the Gallery of Francis I. If the design does not reflect a now-destroyed painting, it could also have been a model for a stucco relief.
The subject represented is the legendary contest between Athena (the Roman Minerva) and Poseidon (Neptune) to determine the patron of the capital city of Attica. As the other gods sat in judgment in the heavens, Neptune struck the earth with his trident and brought forth the horse; Athena, in her turn, caused the olive to grow. The print depicts the moment when Athena receives the laurel crown from a winged victory. Sea and river gods sprawl at Neptune's feet and Minerva stands beside the goddess Cybele with her crown of towers, a personification of Nature's power of growth—the children who clamber over her are symbols of her fertility. While the myth is Greek, the iconography, in which mythological figures personify abstract qualities in a clear, didactic manner, is much more typical of ancient Roman art.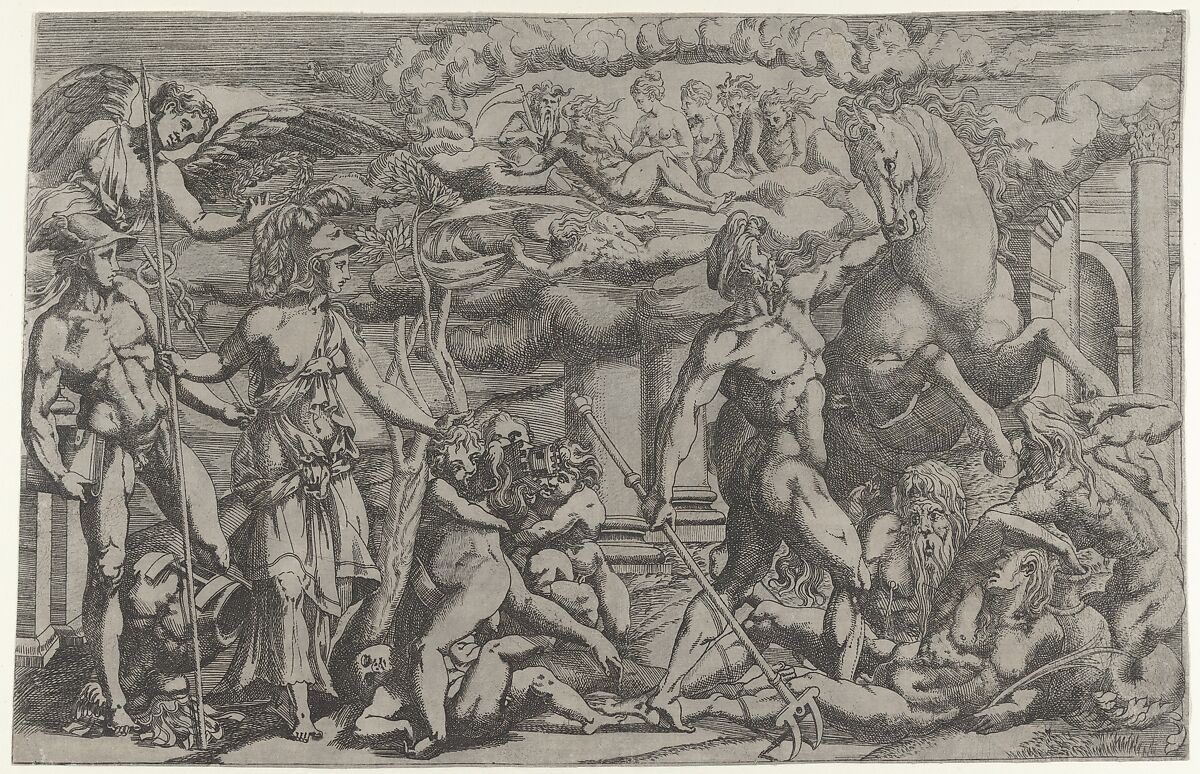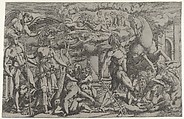 This artwork is meant to be viewed from right to left. Scroll left to view more.