Niccolò Paganini (1782–1840)
Jean Auguste Dominique Ingres French
Sitter Niccolò Paganini Italian

Not on view
Ingres prepared this drawing especially for his close friend Luigi Calamatta, who produced a crayon-manner engraving based on it in 1830 (17.3.756-2183). Ingres probably met the sitter, violinist Niccolò Paganini, in April 1819, perhaps during a recital for Prince Wenzel von Kaunitz-Rietberg, the Austrian ambassador in Rome. The French painter was already acquainted with the ambassador's family, having portrayed his three young daughters in 1818 in another graphite drawing in the collection (1998.21). It was in this Roman context that Ingres created his earliest known portrait drawing of Paganini (Musée du Louvre RF 4381), signing his name and recording the date 1819. The Metropolitan drawing seems to have been traced from this Louvre version more than a decade later. Ingres traced his earlier portrait on translucent paper and then turned over the sheet to enhance details with graphite and gouache, creating a reversed template for Calamatta to follow as he engraved his copper plate. Ingres most likely commissioned the engraving to take full economic advantage of Paganini's popularity in Paris during the early 1830s.

The Metropolitan drawing has been described repeatedly as a counterproof in the literature ever since its potential identification with a drawing sold during the auction of Luigi Calamatta's collection (Hôtel Drouot, Paris, 18-19 December 1871, no. 128). A counterproof is created when a drawing or print is passed through a roller press beneath a dampened piece of paper. Loosened by moisture, a portion of the ink, chalk, or graphite transfers to the new support, forming a mirror image of its source. Since the technique can damage an original drawing several scholars have conjectured the existence of a lost portrait of Paganini created by Ingres in 1818 from which the Metropolitan drawing was counterproofed. This thesis of a lost original also helped to explain why Calamatta chose to inscribe his print with the earlier date. However, the filmy, smooth surface of tracing paper is difficult to moisten and resistant to absorbing a successful impression of graphite. Ingres is known to have used translucent papers to transfer designs and it is much more reasonable to perceive him tracing and reworking his earlier portrait. Evidence for this can be found in the reversed inscriptions and a misplaced circle over Paganini's middle finger that shows through the translucent paper, recording an abandoned tracing of a jacket button or violin tuning peg. So attentive was Calamatta to his source that he mistakenly reproduced this remnant of Ingres's working process. This oversight would be difficult to explain if Calamatta had been responsible for the tracing.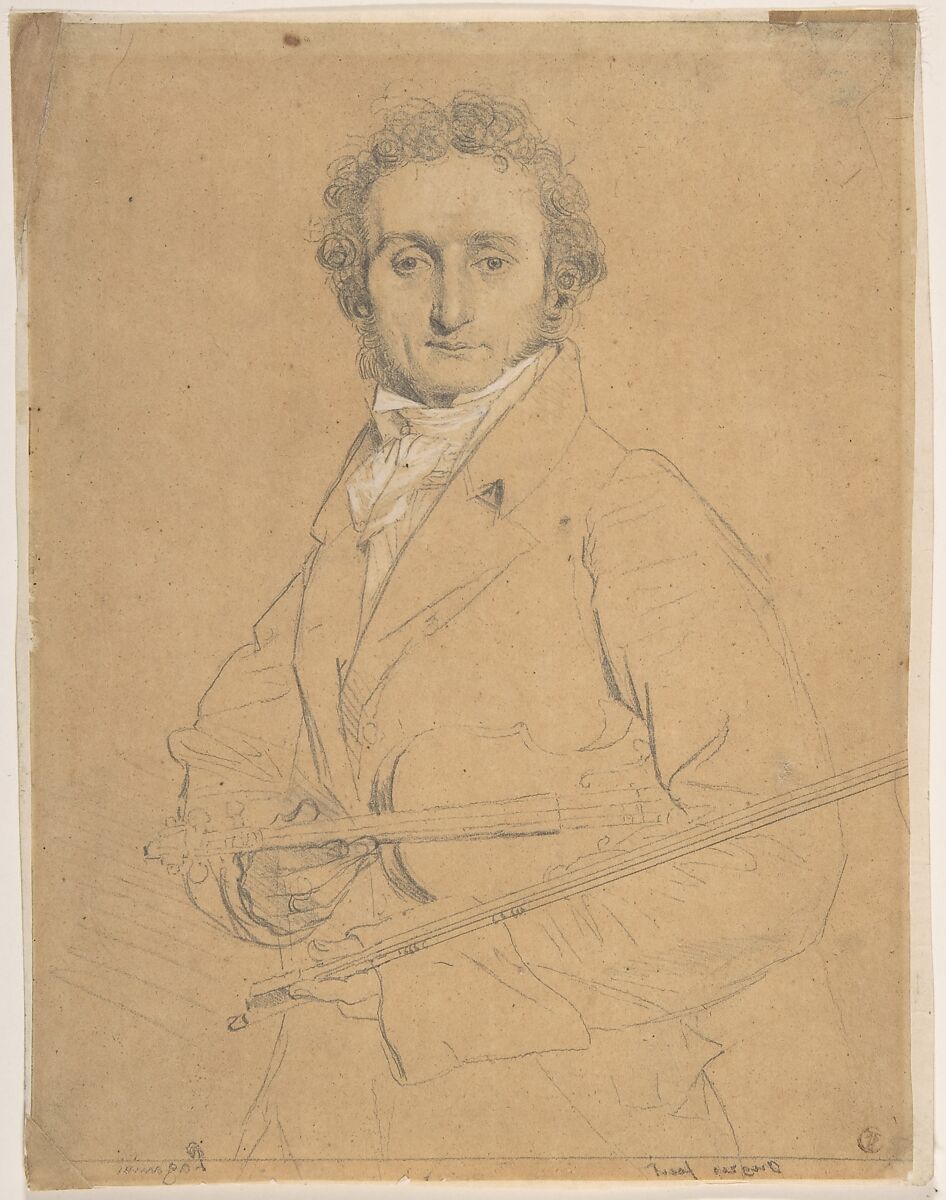 This artwork is meant to be viewed from right to left. Scroll left to view more.