Allegory of the Redemption of the World
Paolo Veronese (Paolo Caliari) Italian

Not on view
This 'chiaroscuro' drawing with the 'Allegory of the Redemption of the World' is one of the largest known by Paolo Veronese and was conceived as an independent work of art, not as a preparatory study for a painting. Sibyls grouped around the empty tomb of Christ and prophets situated in the clouds above act as intermediaries between the earthly and heavenly realms. The scrolls they hold refer to prophesies for the redemption of the world, the idea embodied above. There, one sees the Holy Trinity with Christ blessing a kneeling figure—either Adam or Saint John—who is presented by Mary. Veronese, one of the great masters of pictorial representation "di sotto in su," (from below) imbued the heavenly realm with a lofty character suited to the exalted theme.

Jonathan Richardson, the noted seventeenth-century English collector of Old Master drawings, owned this work and inscribed a lengthy explanation of the obscure subject on its verso (see here "Signatures, Inscriptions and Markings" while for a further reading of Richardson's inscription see Whistler 2014). The text that Richardson has transcribed gives an elaborate explanation of the allegorical intentions of the artist, and it is particularly interesting concerning the presence of the sibyls at the bottom of the composition; holding prophetic scrolls, they are gathered around an empty tomb and are oblivious to the great revelation above them. Irwin Panofsky points out, however, that the description may err in describing the figure kneeling in intercession besides the standing Virgin as the "First Author of Original Sin," namely Adam. In placement and appearance this figure would seem to be John the Baptist, who often accompanies the Virgin as joint intercessor for mankind at the Last Judgment.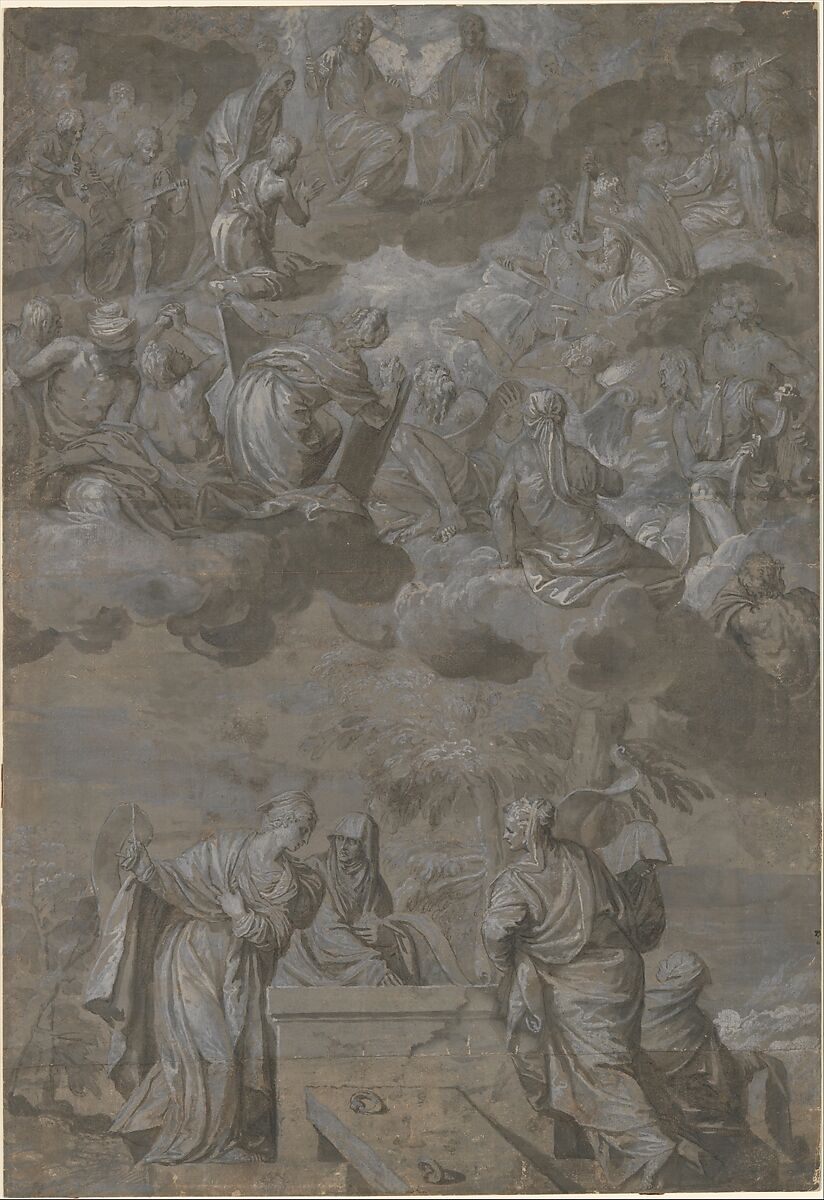 This artwork is meant to be viewed from right to left. Scroll left to view more.