Vita et Fabulae
Author Aesop Greek
Editor Francesco Del Tuppo Italian
Publisher Germani Fidelissimi Italian

Not on view
This popular book of moralized tales, most of which involve animals, was among the standard texts used to teach young children (mainly boys) to read. At least four different illustrated editions appeared in Italy in the fifteenth century, of which the most remarkable is that published by the jurist and humanist Francesco del Tuppo in 1485. Del Tuppo provided a new Italian translation of the text, basing his life of Aesop on the Latin translation of Rinucius of Arezzo and his fables on an anonymous twelfth-century verse account. He also added interpretation and commentary.
While the composition of some of the book's illustrations derives from those of the first illustrated Aesop of 1479 (21.4.3), the vigorous and decorative style of the eighty-eight cuts sets them entirely apart. Whether the product of a Spanish artist working in Spanish-controlled Naples, a reflection of the Moorish influence that had reached Naples through Sicily, or the result of a German artist working in the Italian tradition, the illustrations are of an astonishing originality.
The mythical life of Aesop, a series of moralizing narratives, plays off Aesop's clownish appearance—he was reputed to be a hunchbacked dwarf with an outsized head—against his great wisdom and goodness. This illustration shows how Aesop, falsely accused by two of his fellow slaves of eating his master's figs, proves his innocence by drinking a vessel of warm water and making himself vomit, revealing nothing but water in his stomach. The guilty party is then compelled to regurgitate the stolen figs.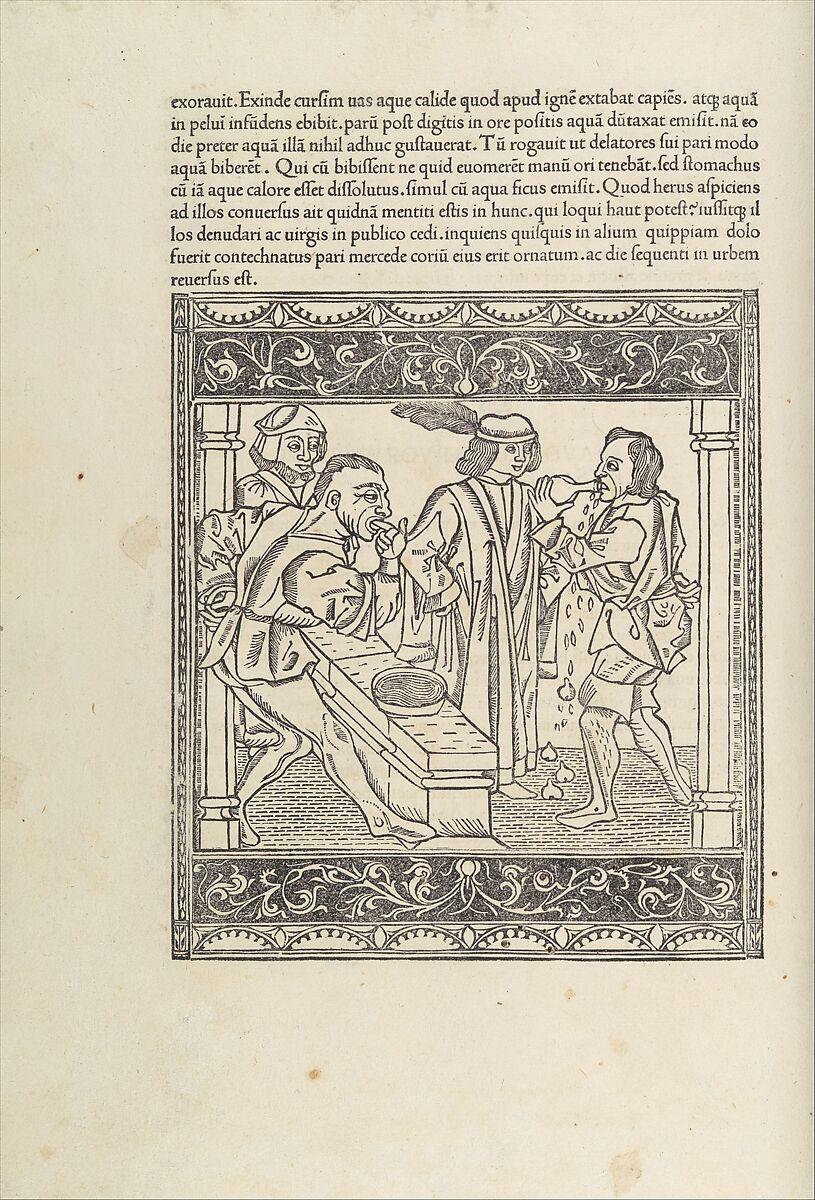 This artwork is meant to be viewed from right to left. Scroll left to view more.