Ein ney Furmbüchlein
Publisher Johann Schönsperger the Younger German

Not on view
Book with textile patterns executed in woodcut, published by Johann Schӧnsperger the Elder, Augsburg ca. 1525-1529.
According to Lotz there should be 19 leaves, signed A - D4, E 3 with 26 pages of patterns and lettering. He reocrds only one other copy - that in Berlin. The type used in marking the signatures identifies thi sbook as one of Schonsperger's . Since Guentell copied several of the patterns in his "Eyn newe Kuntsliche Modelbosch" (Lotz 6) in 1529, this undated book undoubtedly precedes it. See Lotz for a discussion of the uses intended for these patterns which Lotz thinks could have been designed in the Hopfer studio - possibly for armour decoration. Berlin copy apparently lacks the last blank. 18 leaves, unnumbered. Sigs: A 2, B - E 4 (last leaf blank). Two leaves from sig. A are probably missing. Strange - Bibl. Soc. VII. p. 219, # 25. Lotz-Zeitschrift f. Bucherfreunde 1926. Heft 3.pp. 45-46, illus. Destailleur - Cat. de Livres et Estampes 386.6 (22ff.) Whiting 1216, Fairfax-Murray 292 (this copy). Fairfax-Murray Sale #302, Christie Manson Woods Dec. 10-12, 1917. Rosenthal Cat. 27.100.42. N.B. That one of the designs on Eiii recto has been "pounced". The following notes were made by Mr. Ivins in the old binding/ "Supposed to be unique - but it is not the same as Bocher's # 26...it was part of lot 1617 in Destailleurs 1895 sale. 1926 - One in the Berlin Art LIbrary + another in the Bibl. Nat. Paris This copy described as H 0 292 in Murray's LIbrary Catalogue of Early German Books, London, 1913.:Bound by Alfred Launder August 1930 in gold and blue marbled paper boards, half bound in white vellum, gilded.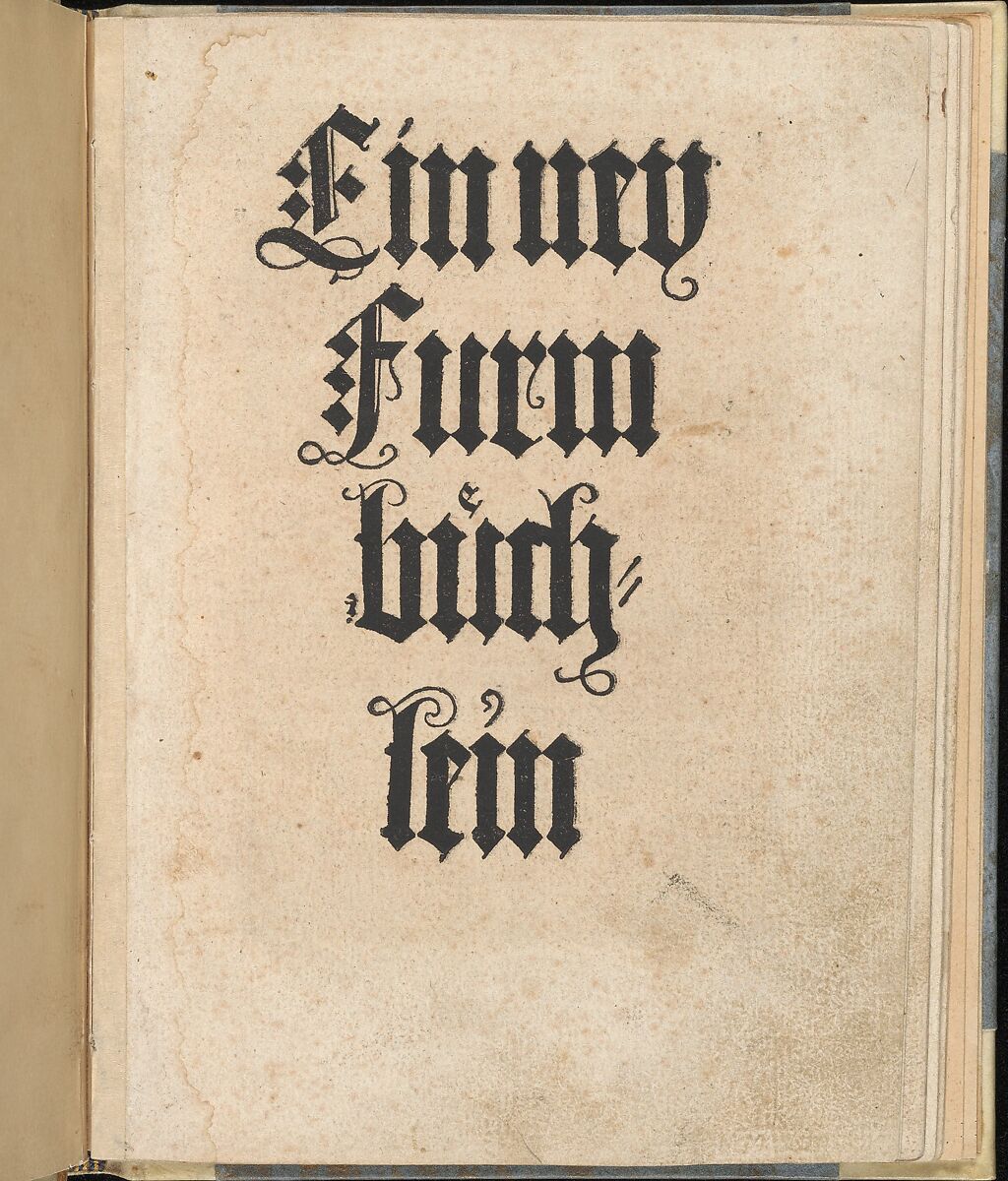 This artwork is meant to be viewed from right to left. Scroll left to view more.