Study for the Wife and Daughters of Brutus (recto); Study of a Male Nude (verso)
Jacques Louis David French

Not on view
This sheet is one of many studies David made for The Lictors Bringing Brutus the Bodies of His Sons (Musée du Louvre, Paris), completed on the eve of the French Revolution and exhibited shortly after the fall of the Bastille in 1789. For a compositional study in The Met's collection, see 2006.264.

The subject, drawn from Roman history, found great resonance in the context of contemporary events. The canvas depicts an episode from the life of Lucius Junius Brutus, who put an end to the brutal regime of Tarquin, Rome's last king, and established the first Roman Republic, only later to find his two sons embroiled in a royalist conspiracy. True to his political convictions, Brutus condemned his sons to death. The novelty of David's painting is its focus, not on the executions but on the wrenching domestic aftermath.

The composition's tripartite concept features Brutus alone in the left foreground; a more dramatic group of figures including his wife and daughters to the right; and the lictors carrying the corpses of the sons in the left background. The group of Brutus' wife and daughters underwent many changes as David planned the canvas. As was his frequent practice, he began by depicting the figures nude, presumably to ensure that the anatomy and proportions were correct before adding clothing. After many iterations, David was still not satisfied with his depiction of the mother-daughter group. In early versions, Brutus's wife, in her all-consuming grief, neither sees nor attends to her daughters. They are physically unified but emotionally unconnected. David's solution, it would appear, came from an ancient relief of Silenus supporting a collapsing maenad. David captured this new idea quickly in red chalk, an unusual medium for him, but perhaps it was all he had at hand when inspiration struck. In a faint like the ancient maenad, Brutus's daughter is held up only by her mother's strong grip. The second daughter now stands, leaning into her mother, her view of her brothers partially blocked by her own hands. This solution encapsulates the mother's dual role, at once victim and protector. We know nothing of the early provenance of the sheet, but the paper bears clear signs of having been folded into eighths, perhaps in order to be mailed in a letter.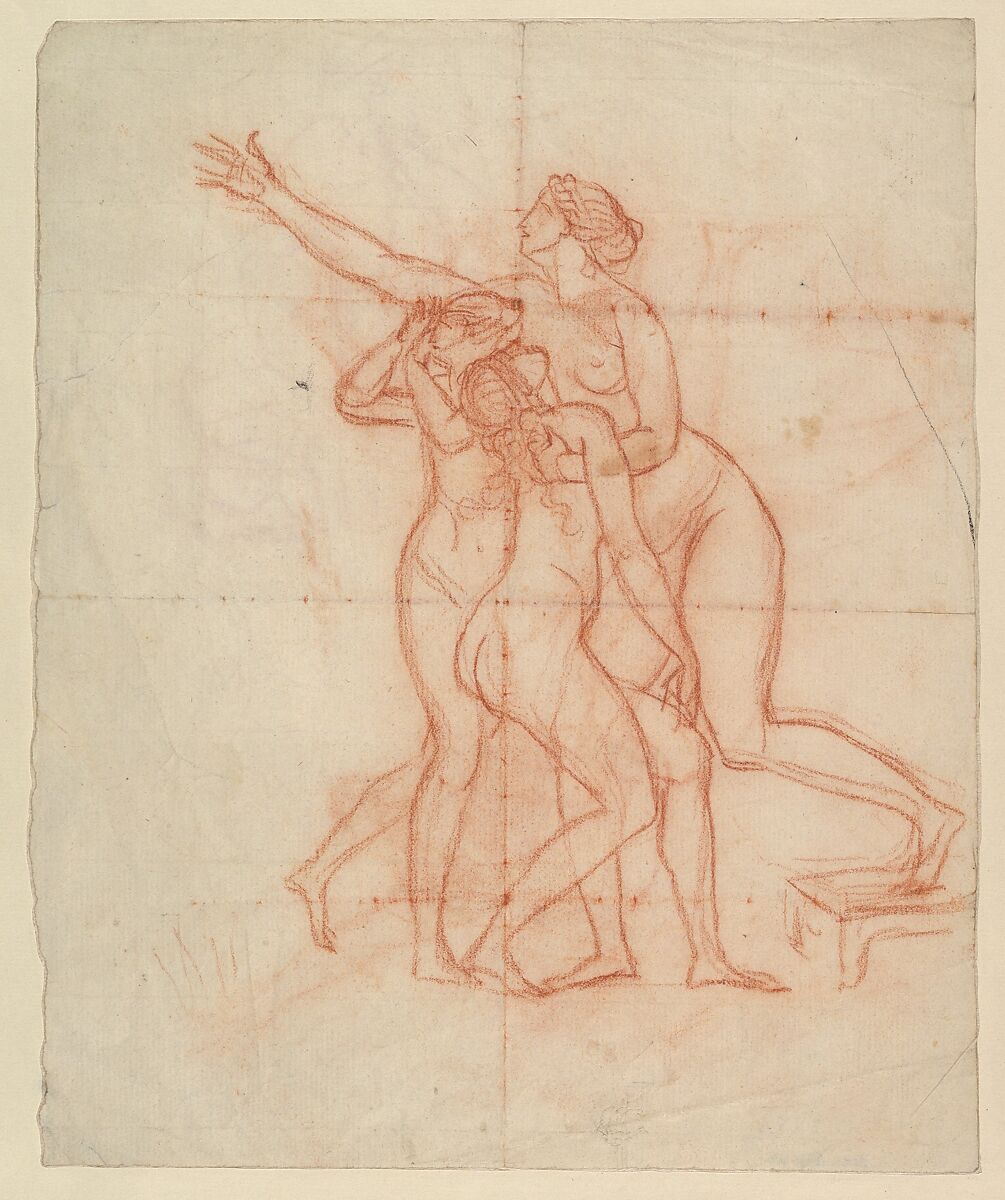 This artwork is meant to be viewed from right to left. Scroll left to view more.