Reliquary of the Journey and Adoration of the Magi
On view at The Met Cloisters in Gallery 14
Jewel-like color, gold, and fine engraving all contribute to the sense of the sacred in this reliquary celebrating the Journey of the Magi to Bethlehem. Recorded only in the Gospel of Matthew (2:1-12), elements of the story nonetheless find a persistent echo in art and literature, from ninth-century Persia to twentieth-century America. Here, the medieval goldsmith has distilled the tale to its essence, adding subtly imagined details at the same time.

The Magi from the East wear crowns like European kings. The one who leads points confidently towards a star ahead, while the second ruler is more circumspect, keeping his arm in check. The third, unsure, points back in the direction from which they came.

On the lower panel, the kings have just dismounted in Bethlehem, still wearing their spurs. Each bears a gift—gold, frankincense and myrrh—for the child Jesus, who precociously blesses them as he sits on his mother's lap. Crowned and bearing a lily scepter, Mary steadies her child and, with toes pressed to the floor, balances on a colorful throne. The first king fairly leaps over a hillock towards them, his gift respectfully held in veiled hands. His more timid companions follow, their stances tentative, nervous. A haloed man cradling a book quietly looks on; he is perhaps the author of the gospel.

The Magi were widely celebrated in Europe after the acquisition of their relics for Cologne Cathedral in 1164. Even before that, their story was acted out in church pageants on the Feast of the Epiphany (January 6th, the 12th day of Christmas). In this presentation of the Magi as kings on that first pilgrimage to Bethlehem, is there also a touch of nostalgia for the Holy Land, over which European rulers had lost control in 1187.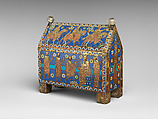 This artwork is meant to be viewed from right to left. Scroll left to view more.