Landscape with the Rest on the Flight into Egypt
Claude Lorrain (Claude Gellée) French

Not on view
Claude executed more drawings and paintings on the biblical theme of the Flight into Egypt than on any other subject. During the 1630s, Claude repeatedly revisited the theme, each time varying his approach, creating variations on the composition and making full use of the various drawing media.
This sheet is connected to a painting preserved in an English private collection whose date, difficult to decipher, seems to be 1635. On stylistic grounds, such a date would be plausible for the Metropolitan's drawing as well, which would place it just before 1636 when the artist began to record his finished canvases in drawn ricordi kept bound in a book entitled the Liber Veritatis.
Characteristic of many of Claude's landscapes dating from the mid-1630s, the trees are grouped in large masses and arranged on either side of the sheet, framing a narrow view into the distance. In this carefully composed landscape, the Holy Family, fleeing from the order given by Herod to massacre all children under the age of two, has stopped to rest under a palm-tree. The Virgin is seated on the ground and holds the infant Christ on her knees while an angel attends to them and Joseph leans on a donkey.
On the verso of the drawing, Claude has experimented in chalk with a different arrangement for the trees and has traced the figures with the pen, a process by which their positions are reversed. This verso can be related to another painting of a private New York collection, a slightly later variant of the English version.
The conscious and carefully balanced equilibrium of the composition suggests that the sheet was drawn in the artist's studio. In the period decade from 1635-1645, when Claude was consolidating his reputation as leading landscapist in Italy, the proportion of nature studies in his oeuvre gradually diminished in favor of compositional drawings. One can observe the great attention paid to the depiction of spatial recession through successive planes that are however subtly connected by the oblique angles formed by the trees. The topography is rendered by a variety of hatching marks used to depict the land masses and vegetation.
The dry and sober style of the technique, achieved through the use of pen and brown ink over light traces of black chalk echoes that of similar drawings by Agostino Tassi, whose student Claude had been from 1622 to 1625.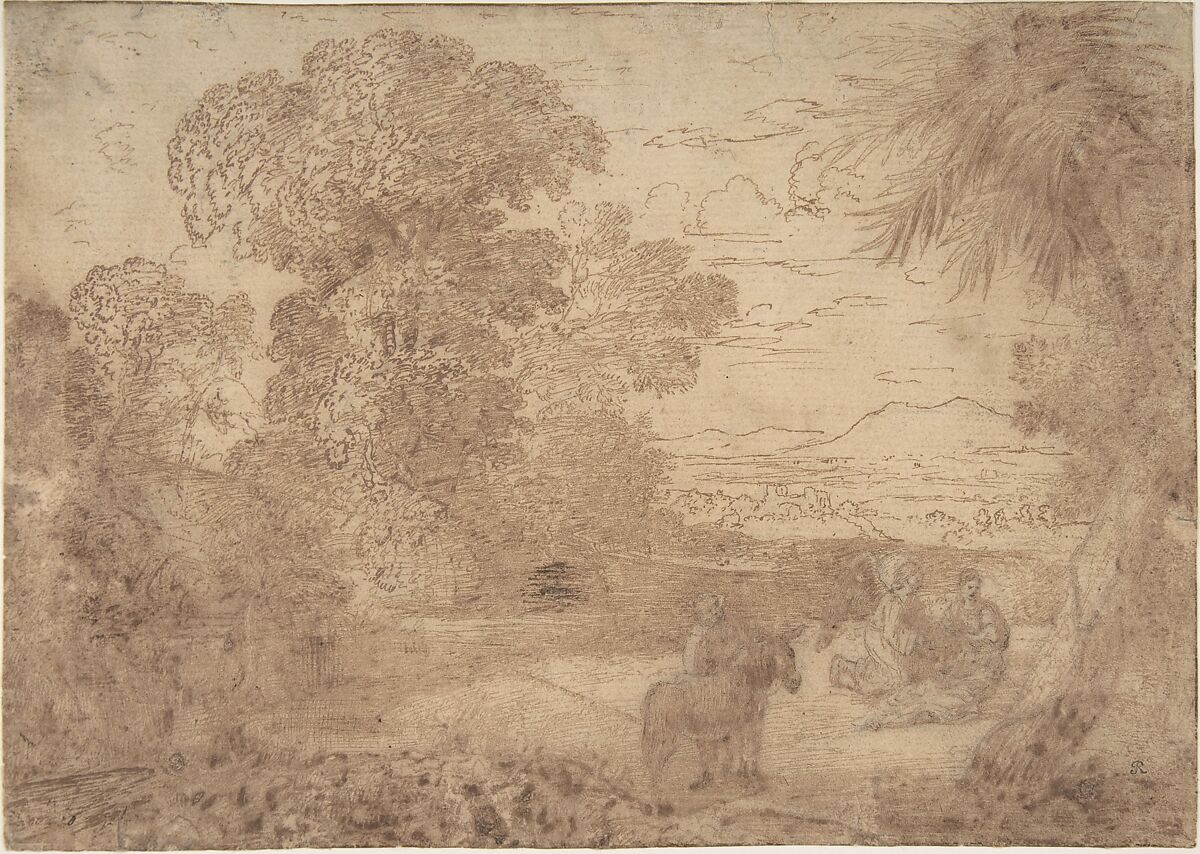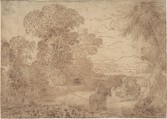 This artwork is meant to be viewed from right to left. Scroll left to view more.