Bacchanal with a Wine Vat
Andrea Mantegna Italian

Not on view
Throughout his life, Mantegna was fascinated with classical antiquity. In the middle of the sixteenth century, the biographer Giorgio Vasari, was the first of many to note how Mantegna's work in two dimensions possessed a sculptural quality, writing that 'Andrea was ever of the opinion that the good ancient statues were more perfect and had greater beauty in their various parts than is shown by nature.' Mantegna was in Rome from 1488 to 1490 and immersed in the study of ancient buildings and the statues and relief sculptures that were being excavated and collected by antiquarians. After his return to Mantua, Mantegna continued to draw on his Roman experience.

This composition and its companion Bacchanal with Silenus (see 29.44.15) were inspired by antique sarcophagi that were in the collections of the della Valle family and in the Church of Santa Maria Maggiore in Rome, and are prime examples of the way Mantegna's imagination could endlessly reformulate antique sources into entirely original designs. While it has been suggested that these prints record a decorative scheme for one of the Gonzaga palaces, it is equally likely that Mantegna made use of the medium to explore his own interests, apart from the demands of the court, and as a way to make his inventions widely known .
Here, the drunken figures gather around the wine vat populating the space with a funereal majesty. It conjures a deeper emotional content in the ancient associations between Bacchic rites and Christian mysteries. The unconscious youth at the center is held up by a gaunt mourning figure much like the dead Christ in the Pietà. Of all the possible interpretations of this print, it is most likely that Mantegna produced his engravings as a means of making his inventions widely known beyond his circle of patrons in Mantua.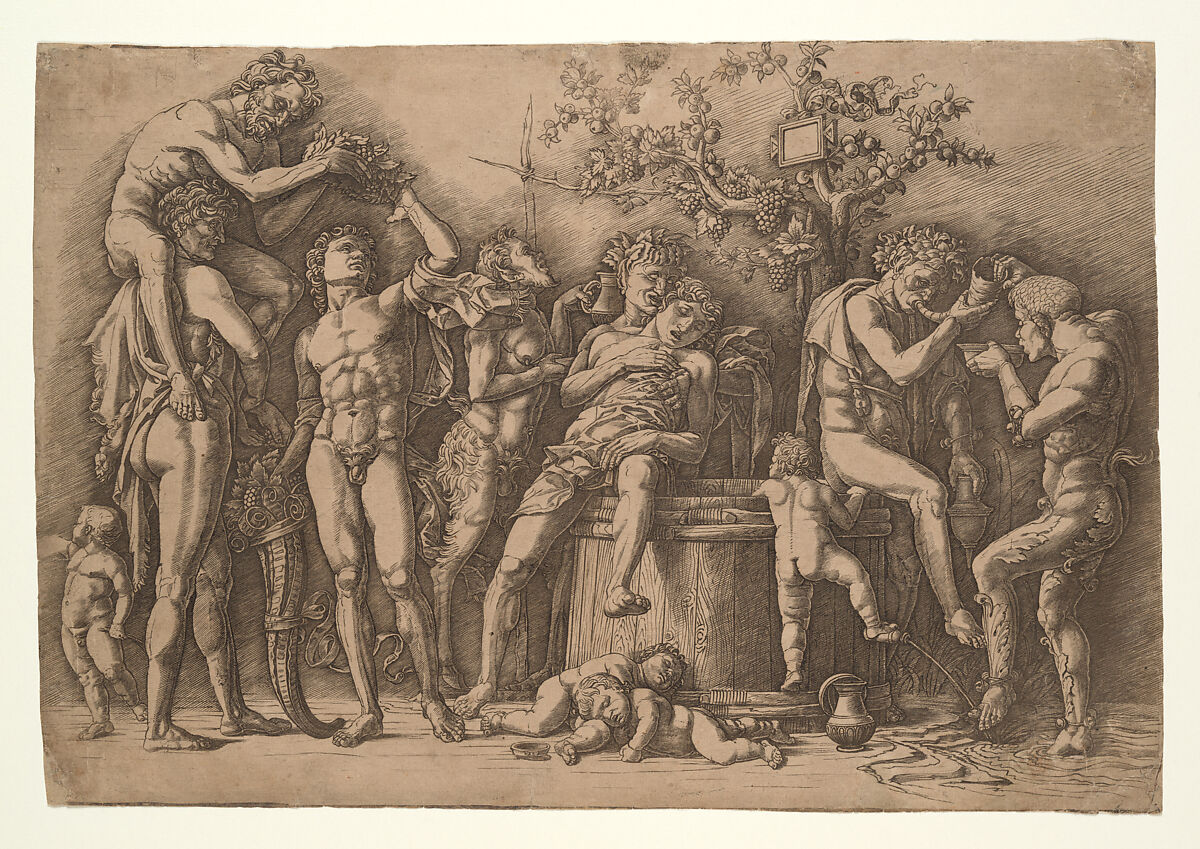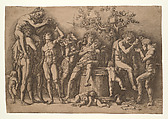 This artwork is meant to be viewed from right to left. Scroll left to view more.