Le devote meditatione sopra la passione del nostro signore
Attributed to the Pseudo- Saint Bonaventura Italian
Publisher Hieronymous de Sanctis Italian
Design of woodcuts attributed to Cristoforo Cortese Italian

Not on view
The anonymous author of this Franciscan devotional tract, once attributed to Saint Bonaventura, humanized the story of Christ's suffering, providing detailed narrative accounts of each critical event, and thus contributed significantly to a new mode of devotion and a new Christian iconography. Probably originating around 1300, with the advent of the press the text became one of the most frequently printed works of the late fifteenth century.
This first illustrated edition is particularly important for preserving the images from the only known Italian blockbook of the fifteenth century. Only one, incomplete, copy of the blockbook in its original state—before the blocks were cut down—survives, in the Berlin Kupferstichkabinett. Only eleven cuts from the original—which probably consisted of at least thirty-one—have been reused here, but these include the Raising of Lazarus, which is lacking from the copy in Berlin.
The Raising of Lazarus, the first illustration in this book, was a particularly significant miracle, for it anticipated the Resurrection and gave proof of Christ's ability to vanquish death. Lazarus had then been dead for four days, a fact emphasized in the biblical text and in this illustration, where three of the figures conspicuously cover their noses, indicating that the body has already begun to stink. The sisters of Lazarus, Mary and Martha, do not shield themselves from the stench but kneel before Christ in prayerful attitudes, giving proof of their faith in his ability to do the impossible. Lazarus, wrapped in his shroud, is seen sitting up in his tomb in response to Christ's command.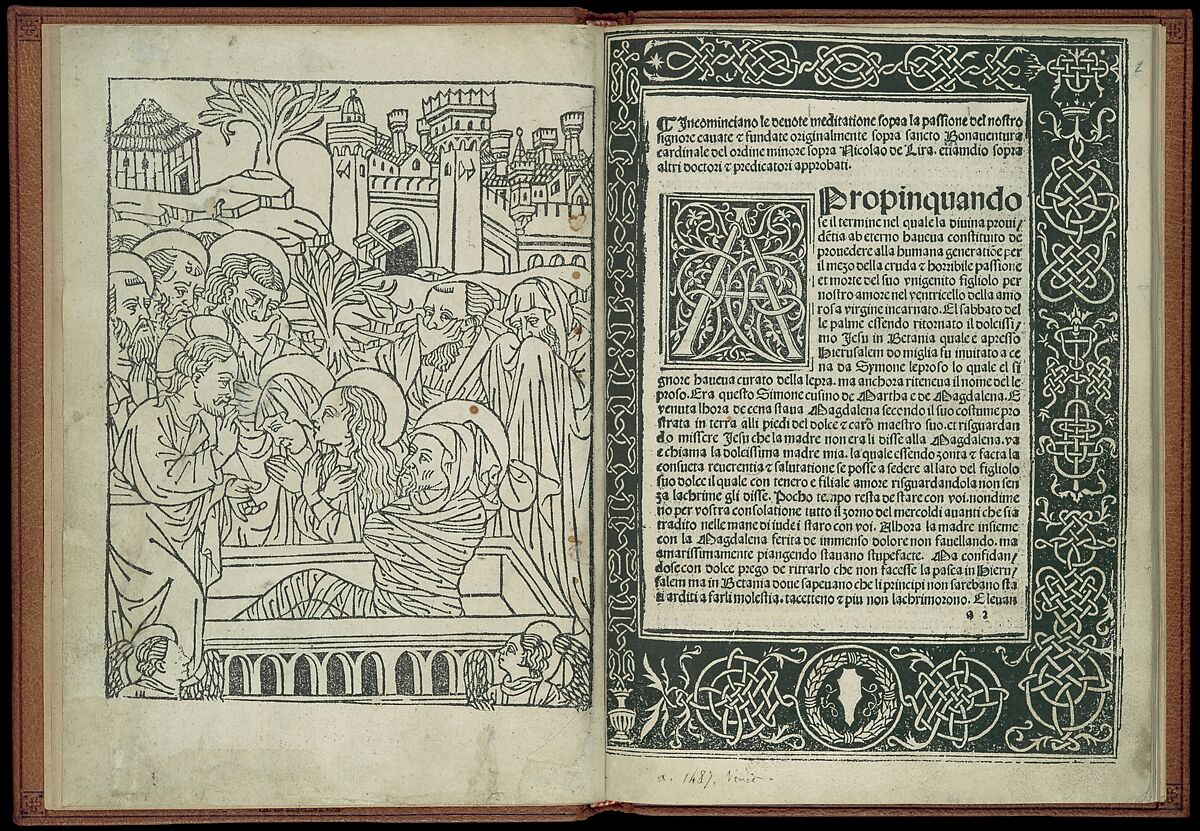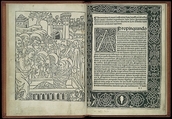 This artwork is meant to be viewed from right to left. Scroll left to view more.