Self-portrait
Simon Bening Netherlandish

Not on view
Written in gold on a red background is an inscription that identifies this miniature as a self-portrait of the famous Bruges illuminator, Simon Bening: "Simon Bennik, the son of Alexander, painted this himself at the age of 75 in 1558."

Simon Bening became one of the most famous illuminators of the sixteenth century. He spent his early years in Ghent or Antwerp, probably working under the tutelage of his father, the illuminator Alexander Bening. Simon moved to Bruges permanently in 1517, where over time he headed a large and flourishing workshop. Although Bening was much admired in his day and widely imitated, his artistic personality has yet to be thoroughly studied.

This miniature painting has attracted considerable interest in art history as an early self-portrait of an artist. Bening portrays himself, spectacles in hand, seated before a wooden easel. The easel holds a drawing of the Virgin and Child; along its left edge, small ledges hold various painting materials. In representing this imagery Bening allies himself with Saint Luke, the patron saint of painting, who is traditionally shown painting an image of the Virgin - a subject that itself became a conceit for the self-portrait of the artist in the 15th and 16th centuries. Bening portrays himself not in the garb of an artisan, but as a member of the intelligentsia. By inscribing his work with a signature (as the son of Alexander) and a date, he acknowledges his talents and heritage in the distinguished lineage of Bening illuminators in Bruges. The illumination was probably made as an independent work, rather than as part of a book, at a time when autonomous miniatures increasingly came into production. A second version of this miniature is in the Victoria and Albert Museum, London.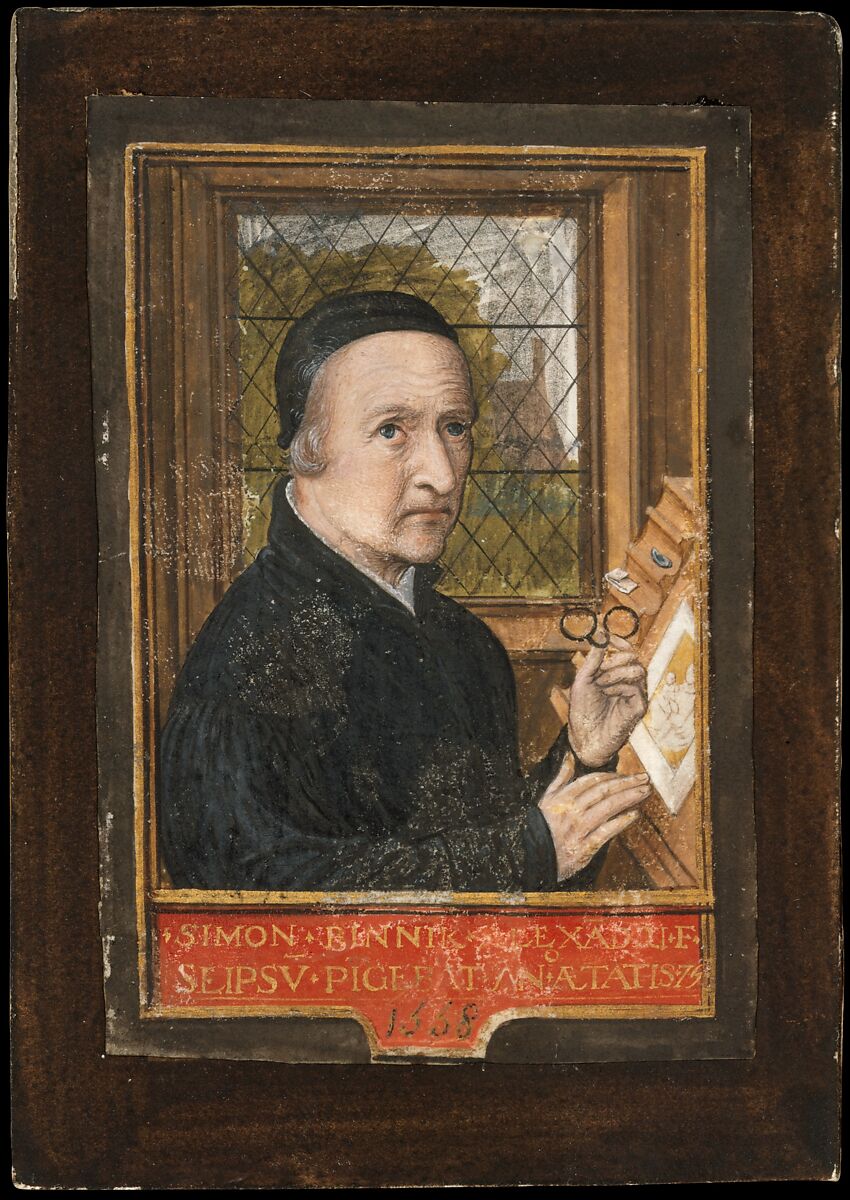 This artwork is meant to be viewed from right to left. Scroll left to view more.