On loan to The Met The Met accepts temporary loans of art both for short-term exhibitions and for long-term display in its galleries.
The Spartan Mother
Jacques Louis David French

Not on view
This recently rediscovered sheet was made in Naples in 1779, shortly before David's return to Paris. Like Belisarius Begging for Alms, hanging nearby, it shows the artist generating ideas for pictures in the pared-down, classicizing manner he had developed over the course of his stay in Italy.
With this spare and dignified style he would pair moralizing subjects, in this case the legend of a Spartan mother sending her son off to war. She instructs him to return either "with shield in hand or lying under it"—in other words, victorious and borne home in triumph, or having died the glorious death of a hero.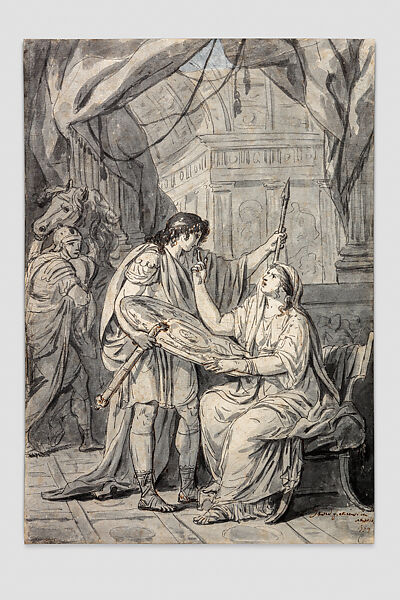 This artwork is meant to be viewed from right to left. Scroll left to view more.