Triompho di Fortuna
Author Sigismundo Fanti Italian
Printer Agostino da Portese Italian
Publisher Giacomo Giunta Italian

Not on view
After the popular Libro della ventura of Lorenzo Spirito, first published in 1482 that had gone through several editions, the Triompho di Fortuna was the second illustrated fortune-telling book to appear. Fanti's book functions as a game in which the seeker follows cues that lead from figures of Fortune to houses and then to wheels, spheres, and astrologers, the path determined by either a throw of the dice or the time of day at which the book is consulted.
This elaborate frontispiece is based on a drawing preserved in Christ Church, Oxford, that scholars agree in attributing to the Sienese painter and architect Baldassare Peruzzi (1481–1536), best known for designing the Villa Farnesina in Rome and for decorating many of its rooms with frescoes—including one that represents the horoscope of the villa's patron, Agostino Chigi. The frontispiece suggests that the fortune-telling method contained within the book has its basis in astrology or astronomy—scarcely distinguished at the time—and in chance. The seated astronomer with astrolabe and compass alludes to the use of the stars to foretell the future, while the naked youth holding a die refers to the saying of the ancient Greek philosopher Heraclitus that 'time is a boy playing dice'. This same juxtaposition of randomness with science is illustrated in the upper half of the design. The strongman who supports the celestial sphere calls to mind the ancient marble statue now known as the Farnese Atlas—then in a fragmentary state in the Del Bufalo collection in Rome—that was renowned as the only representation of the heavens to survive from antiquity. Elsewhere in the book, Atlas, with the globe on his shoulders, is identified as the prince of astrologers. But here the sphere Atlas supports is turned by an angel and a devil—the only reference to a Christian framework controlling events—and the pope seated precariously on top suggests the medieval imagery of the Wheel of Fortune, which capriciously elevates popes, kings, and criminals only to bring them crashing down at whim. The pope's position was indeed precarious when this book was published, a few months prior to the Sack of Rome, and one of the fortunes contained within the book predicts the downfall of the city. Perhaps it is Rome that we see in the background, where a large clock alludes to the measurement of time and to the use of the hour to determine the game's outcome. The Pantheon may have been represented because it was believed to serve an astronomical function in antiquity.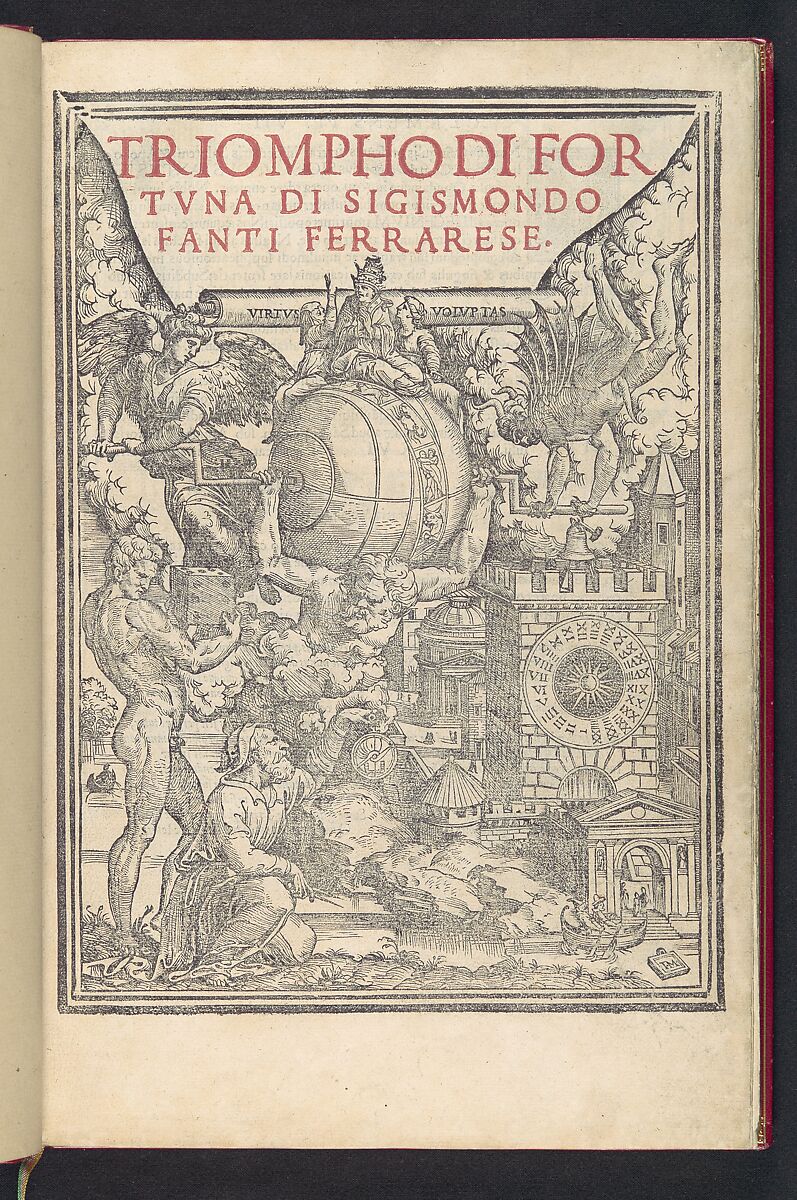 This artwork is meant to be viewed from right to left. Scroll left to view more.