Mountainous Landscape
Denijs van Alsloot Flemish
Formerly attributed to Tobias Verhaecht Netherlandish
Formerly attributed to Roelandt Savery Flemish

Not on view
The draftsman Denijs van Alsloot noticeably took great care in depicting the foreground of his mountainous landscape, minutely drawing the intertwining branches of the majestic tree to the right of the composition. To its left, a road trails off towards a little hamlet in the distance. There, a bridge connects the two banks of a river that runs through the center left of the picture.

The high level of detail observed in the large tree stands in contrast with the more freely executed background scene, which effectively renders a sense of depth into this panoramic view. To better articulate various aspects of the landscape, such as the waterfall, river and buildings, van Alsloot added brown washes and a little blue and red watercolor.

Denijs van Alsloot was a court artist to the archdukes Albrecht and Isabella in Brussels, and was responsible for the recording of various historic events at the royal city of residence. Most of his artistic output, however, consists of landscape paintings, often with mythological or biblical narratives, much in style of his famous contemporary, Jan Brueghel the Elder (1568–1625). Dated works are known from 1606 until 1625.


The attribution of this drawing to van Alsloot was only recently established.[1] Since it entered the museum in 1956, the drawing had been attributed first to Tobias Verhaecht (1561–1631) and then to Roeland Savery (1576–1639). Sabine van Sprang, a specialist of Flemish landscapists, finally identified the artist.

Confusion about the drawing's authorship is understandable as van Alsloot's work is strongly reminiscent of Verhaecht and Savery, as well as Jan Brueghel the Elder, and it often can be difficult to tell their hands apart. In their landscapes, these artists show a predilection for panoramic woodlands - a popular pictorial genre, known as the 'Waldlanschaft'. Their drawing style is characterized by the meticulous application of wavering lines in brown pen and ink. Fantastic rock formations, as visible here in the central picture plane, show mannerist tendencies.


Decisive aspects that ultimately led Van Sprang to attribute this drawing to van Alsloot were the rendering of foliage, and the application of washes to indicate alternating zones of light and shade, both typical for the artist.

[1] S. van Sprang, Denijs van Alsloot (vers 1568–1625/26). Peintre paysagiste au service de la cour des archiducs Albert et Isabelle, Turnhout: Brepols, 2014, vol. I, p. 84, cat. no. D5. Van Sprang dates the drawing to circa 1608–11.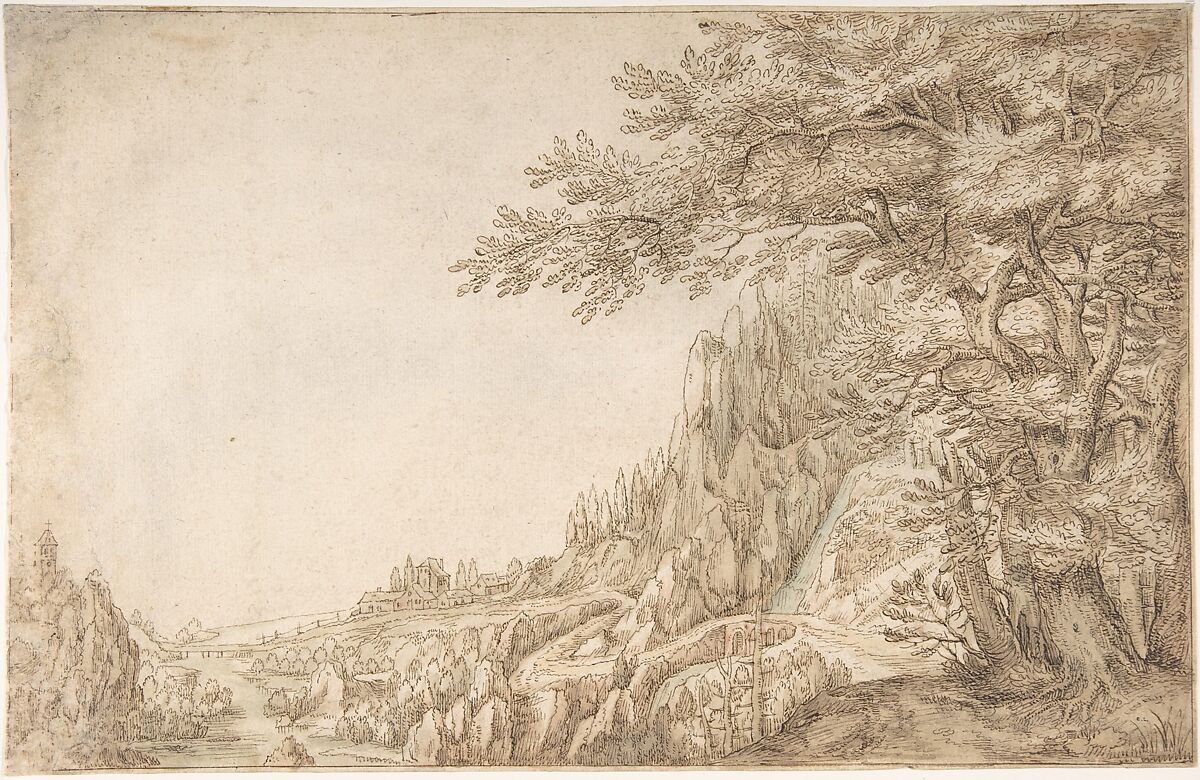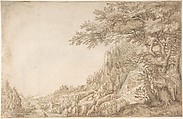 This artwork is meant to be viewed from right to left. Scroll left to view more.